View all news
University receives Outstanding Earth Champion Award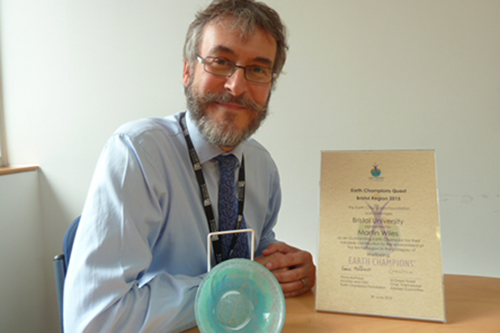 21 July 2015
The University of Bristol has been recognised for its valuable contribution to the environment of the Bristol region in the category of well-being by the Outstanding Earth Champions Foundation.
The award acknowledges the work of the University in improving its waste management, achieving reductions in carbon emissions, improving public transport options for students and improving the environment across the University's estate.
Earth Champions are individuals or organisations who are doing positive work for the environment and people's well-being. The awards are presented by the Outstanding Earth Champions Foundation, which brings the search for environmental solutions to the world's attention by promoting the work of individuals and organisations whose are building a sustainable future for us all.
"We are delighted to receive this award which reflects the efforts of the University community, both staff and students, in making the University a more sustainable, environmentally aware institution in Bristol's year as European Green Capital," said Martin Wiles, Head of Sustainability at the University.
Further information
European Green Capital 2015
University of Bristol is proud to be part of this city-wide initiative, working to make Bristol a world leader in sustainability as part of its designation as European Green Capital 2015. Contributing to the collective efforts of 800+ organisations, the University is hosting a series of events, seminars and public debates that build on its long-standing ambition to generate knowledge that will shape a future we all want to live in. From research that tackles the challenges of environmental uncertainty, through to voluntary community projects that see students engaging with local residents, the University has pledged its commitment to the lasting legacy of #Bristol2015.
Our pledges:
Carbon neutral by 2030
Lighter transport impact
Ethical purchasing
Involving students
Visit bristol.ac.uk/green-capital to find out more about our activities, and read our Sustainability Stories about what we are doing to make our world a better place.