View all news
Reducing flood risk around the world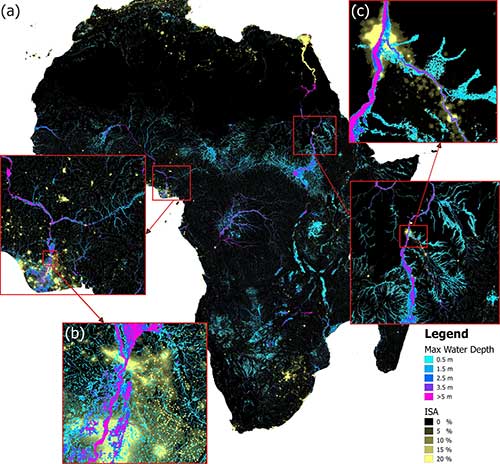 Press release issued: 24 July 2015
How global flood risk models are being used to reduce flood impacts around the world is the subject of a new review by an international team of researchers, including scientists from the University of Bristol.
By estimating the social and economic impacts of flooding, such new computer models help in the fight to protect people from devastating floods, and to reduce the economic losses associated with them.
In a commentary published today in Nature Climate Change, the researchers discuss how the UN, the World Bank Group (WBG), the Red Cross and other international organisations are using these models to improve national-level decisions on disaster risk management.
"As the world's population continues to grow, and the climate changes, the impacts of floods are expected to worsen," the authors said. "However, that trend can be broken if effective flood risk management strategies are adopted. Global flood risk models can help in developing those strategies, especially when scientists and users work together towards a common goal of disaster risk reduction."
Using an Natural Environment Research Council (NERC) Impact award, Professor Paul Bates and colleagues Dr Chris Sampson, Dr Andrew Smith and Dr Jeff Neal in Bristol's School of Geographical Sciences have set up a start-up company, SSBN Ltd., to develop global flood models and licence the data sets to the insurance industry and international organisations such as the World Bank and UN. The company is then giving the data sets back to the University for research purposes. The researchers are also working with Google to make versions of the data sets freely available.
In addition, Dr Mark Trigg, who is funded as part of the Willis Research Network, is undertaking research into the challenges of applying and using global flood models. This ongoing and exciting research puts Bristol at the centre of efforts to improve the science underpinning the models.
Paper
'Usefulness and limitations of global flood risk models' by Ward, P.J., Jongman, N., Salamon, P., Simpson, A., Bates, P., De Groeve, T., Muis, S., Coughlan de Perez, E., Rudari, R., Trigg, M.A., Winsemius, H.C. in Nature Climate Change
Further information
The Cabot Institute
The Cabot Institute at the University of Bristol carries out fundamental and responsive research on risks and uncertainties in a changing environment. It drives new research in the interconnected areas of climate change, natural hazards, water and food security, low carbon energy, and future cities. Its research fuses rigorous statistical and numerical modelling with a deep understanding of social, environmental and engineered systems – past, present and future. It seeks to engage wider society by listening to, exploring with, and challenging its stakeholders to develop a shared response to 21st Century challenges.