View all news
Bristol student in world record bid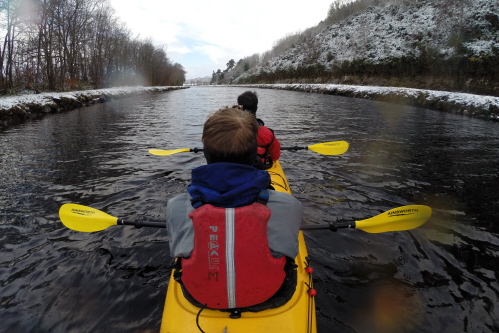 Press release issued: 14 July 2015
A Bristol student is hoping to smash the Guinness World Record for the fastest crossing of Loch Ness by tandem kayak. James Reilly, a 21-year-old medical student at the University of Bristol, and close friend Ted Simpson are hoping to cross the 23 mile loch in under five hours and 19 minutes to set a new record.
Their bid on Thursday [16 July] follows months of training in tough conditions, preparing for the difficult weather conditions which the loch is infamous for.
They are also hoping to raise more than £1,000 for the Cystic Fibrosis Trust by kayaking across the largest body of water in the UK.
Local volunteers will be acting as timekeepers and witnesses to ensure the pair's efforts meet the strict Guinness World Record criteria.
James and Ted, who have been friends since they were five, both share a love of the outdoors and have been on a number of expeditions together – but nothing quite this challenging.
James, who's originally from Guernsey, said: "We saw the Loch Ness kayak record online in September last year and, given that we are stupidly competitive and love a challenge, we decided to have a crack at beating that time. Guinness gave us the go-ahead and we've been organising the event since October, trying to cover all of the criteria and conditions Guinness has provided us with.
"In January we headed up to Scotland and spent several days kayaking on the Caledonian Canal in the snow, which was definitely a challenge at that time of year. Our tent even got destroyed by 80mph winds one night.
"It's hard not to be a bit nervous given the amount of work we've both put into getting to this stage but myself and Ted are definitely looking forward to it and can't wait to get out on the water and really push ourselves for a great cause."
The pair have chosen to raise money for the Cystic Fibrosis Trust after James did a four week summer studentship carrying out research into the genetic condition.
To sponsor James and Ted, please visit their JustGiving page.
The costs of organising the challenge are covered by sponsors, including Walker Simpson Ltd, a Chartered Surveying firm based in North West England, who have sponsored the kayak hire and transport costs.
Further information
James and Ted were successful in their bid to break the world record - completing the crossing in 4 hours, 43 minutes and 43 seconds. Read all about it in the Daily Mail.