View all news
Digging for Kids Company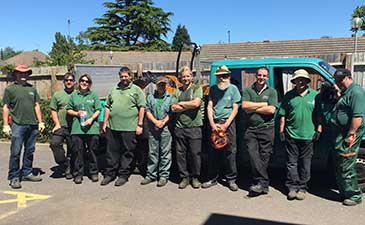 20 July 2015
Staff volunteers from the University's External Estates division used their horticultural skills to great effect when they took part in a renovation project at a Kids Company centre in Henbury last month.
Thirteen members of staff spent a day clearing a neglected, overgrown space on the site of the Heart Lodge premises in north Bristol, to provide a smart, usable outdoor space for the centre's users.
Kids Company, founded by Camila Batmanghelidjh in 1996, provides practical, emotional and educational support to vulnerable children, young people and families in London, Bristol and Liverpool. Kids Company Bristol was opened in January 2013 and has grown rapidly since its launch. It now operates out of six centres across the city, as well as providing therapeutic and social work services to six schools in some of the most deprived areas of the city.
Terry Cunliffe, a horticultural technician with External Estates, said: 'The day was hard work, but it was great fun, and it's gratifying to see how much you can get done when you work as a team. The centre staff and students really appreciated our efforts, and intend to use the revamped area for recreation and to grow flowers and vegetables in newly created beds, and in a variety of recycled pots and containers. As well as the therapeutic value for staff and students, the work has greatly improved the appearance of the property and helped to create a positive, welcoming first impression for visitors, prospective students and local people.'
The University is committed to supporting the city's social infrastructure and allows one day's paid leave per year for each member of staff. In addition, students contribute more than 100,000 hours of volunteering time a year to support local charities.