View all news
Bristol scientists join forces to share dementia research with the public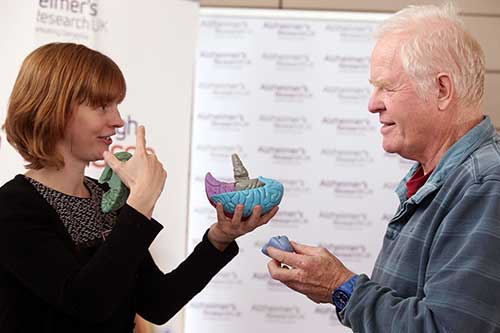 Press release issued: 14 July 2015
Scientists in Bristol will come together on Monday 20 July to hold a free public meeting to discuss current dementia research. The meeting will involve short talks from clinicians and researchers, allowing members of the public to ask questions about Alzheimer's disease and other forms of dementia.
Alzheimer's Research UK is the UK's leading dementia research charity, funding research into the causes of dementia, diagnosis, preventions and treatments. They fund more than £26 million of dementia research across the UK, including pioneering work currently underway at the University of Bristol. This funding is allowing scientists in the region to uncover more about the diseases that cause dementia and contribute to the global effort to put a stop to the heartbreak the condition brings.
Dementia experts from a range of backgrounds will be speaking at the event. They include University of Bristol academics Dr Scott Miners, a neuroscientist studying the biology of Alzheimer's disease; Dr Elizabeth Coulthard, a practicing neurologist carrying out dementia research into the diagnosis and treatment of dementia; and Professor Seth Love who is leading a new national strategy into brain donation to support dementia research.
Professor Pat Kehoe of the University of Bristol will host the event. Professor Kehoe is involved in research into a number of different diseases that cause dementia and is currently leading a national study testing a new treatment for Alzheimer's disease.
Pat Kehoe, Professor of Translational Dementia Research in the School of Clinical Sciences at the University of Bristol, said: "There's a wealth of research taking place in this city, with scientists working hard to put an end to this devastating condition. This event is a fantastic opportunity for people in Bristol to learn more about dementia, ask any questions they have, and hear about the vital research taking place on their doorstep. All the speakers are keen to share their insights into causes, risk factors, treatments, and all the latest dementia research findings from Bristol and around the world."
Catherine McKeever from Alzheimer's Research UK, who will also speak at the meeting, added: "Over 84,000 people in the South West are living with dementia and many more have loved ones with the condition. Events like this one are a fantastic opportunity for the public to get a better understanding of the effects of Alzheimer's and other dementias. Hearing from scientists and clinicians is great way to learn more about dementia and the progress being made towards finding a cure."
The free event, organised by members of the Alzheimer's Research UK Bristol and Bath Network Centre, will take place from 7 to 8.30 pm on Monday 20 July at BAWA Health & Leisure Club, 589 Southmead Road, Bristol. Free parking is available and tea, coffee and other refreshments will be available from 6.45pm. Space is limited so those interested should reserve a place in advance by contacting Jo McTiernan on 0117 4142402 or emailing uob-aruk-event@bristol.ac.uk
Further information
Alzheimer's Research UK is the UK's leading charity specialising in finding preventions, treatments and a cure for dementia.
We rely on donations to fund our vital dementia research. To help us defeat dementia, donate today by visiting www.alzheimersresearchuk.org or calling 0300 111 5555.
We are currently supporting dementia research projects worth over £26 million in leading Universities across the UK.
Our Defeat Dementia campaign, a pledge to raise £100 million in five years to grow the research field and accelerate progress towards new treatments and preventions, was announced by the Prime Minister at the G8 legacy event on 19 June 2014. For more information visit www.dementiablog.org/defeat-dementia
Alzheimer's Research UK launched its first major awareness raising campaign on Monday 1 June to highlight the challenge of Alzheimer's disease and other forms of dementia, and the urgent need for greater investment in dementia research. Featuring Seth Rogen, James Nesbitt, Arlene Phillips and the late Sir Terry Pratchett, the advert will be shown on TV, in cinemas and online during June, and can be viewed at www.alzheimersresearchuk.org and at https://youtu.be/f0YLcLxB77Y