View all news
ACCIS students go back to school with composites research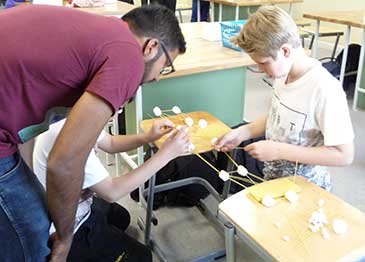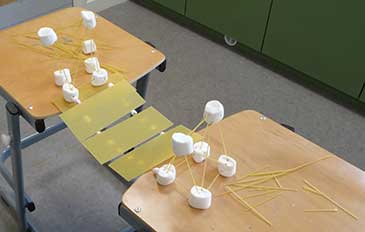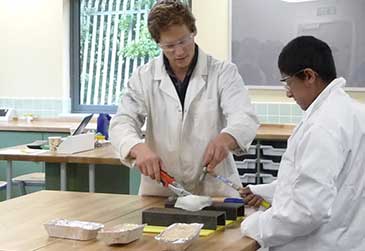 24 July 2015
Researchers from the University's EPSRC Centre for Doctoral Training in Advanced Composites for Innovation and Science (ACCIS CDT) led an outreach event with a difference for Year 7 students at the Crypt School in Gloucester earlier this month.
The event, which was organised to mark the official opening of the Crypt School's new £1.8 million engineering block, involved a range of external engineering companies and academic institutions, including EDF, Delphi Diesel Systems, GE Aviation, Renishaw, Royal Navy and the Universities of Bristol and Leicester.
The University of Bristol was represented at the event by staff and students from the ACCIS CDT, the University's cutting-edge centre for composites research and education, which was established in 2009 following a £7.1 million award from the UK Engineering and Physical Sciences Research Council. It was the first event of its kind coordinated by the ACCIS CDT's recently established student-led public engagement committee. The aim was to educate the school's students about composites and specifically to introduce them to some of the ground-breaking research being done in the ACCIS CDT through a series of talks and hands-on practical activities.
The ACCIS CDT team ran four sessions, each lasting just over an hour, over the course of the day. Each session accommodated 16 students, making a total of 64 participants.
Each session started with introductions from the staff and students, alongside some background information about the University and the CDT. Dr Richard Trask, a Reader in Multifunctional Materials, then gave an introduction to composite materials, explaining why and how they are used.
Participants were then given to chance to test the properties of some composite materials for themselves in a practical experiment led by PhD student Simon Bates.
Two blocks of ice, one reinforced with drinking straws and the other with sawdust, were the test specimens, alongside a benchmark block of pure ice. After hypothesising how these blocks would react to a hammer blow, participants donned protective equipment and three volunteers enthusiastically tested the three blocks to destruction. The experiment successfully demonstrated how even low volumes of reinforcement can drastically improve the toughness of an otherwise brittle material.
Dr Alberto Pirrera, Lecturer in Composites Structures, then considered a particular composite application – a bridge. He introduced participants to some basic structural concepts and showed them examples of novel bridge design. The students were then let loose with marshmallows and spaghetti and tasked with building their own bridges in small groups. After evaluating the various designs, a prize was awarded to the students deemed to have built the best bridge.
Next, two PhD students gave talks about their research. Simon Bates discussed his work on protecting lifeboat crews from wave impacts, which included a live 3D printing demo. A few lucky spectators received 3D printed wristbands to take away. 'Not only did the students fully immerse themselves in the practical tasks but also kept us on our toes by pursuing a number of lines of questioning as we explained the work that we do as researchers,' said Bates. 'It was a pleasure to discuss engineering ideas with such an enthusiastic and inquisitive audience.'
Shashitha Kularatna then demonstrated to the students how virtual reality, motion tracking and haptic feedback technologies can be combined to train composite laminators and explained how this could aid the standardisation of hand lamination. Participants got a chance to use a Leap Motion Controller, which senses the movement of the users' hands and fingers so they can interact with a computer in a whole new way, and a Samsung Gear VR headset, sophisticated head gear that gives the wearer the illusion of moving through a virtual environment. Needless to say, even some of the schoolteachers had a go.
'Spending a day at the Crypt School certainly gave me many flashbacks from my school life,' said Kularatna. 'I was surprised by the number of hands that went up during our demonstrations and all of the questions that followed.'
At the end of each session, the student who had contributed the most was given a special prize in the form of a carbon fibre trophy.
PhD student Giampaolo Ariu, who helped organise the event, said:'The event went outstandingly well, and this is very encouraging as it was the first active outreach participation of the recently established ACCIS CDT student-led public engagement committee. All the kids got involved in the activities with so much curiosity about science and engineering. It reminded me what it feels like to be genuinely passionate about discovering how the world around us works. Hopefully we will see some of them again in CDT in a few years.'
Manu Mulakkal, another PhD student, who facilitated the bridge-building practical, added: 'The boys were very curious during the presentations. They were very attentive and keen during the bridge-building activities and it was nice to see them work together as a team and discuss their ideas for bridge before setting out to build the bridge.'
Further information
Further information
The research is funded by the EPSRC under the Centre for Doctoral Training in Advanced Composites for Innovation and Science (EP/G036772/1) at the University of Bristol.
More about the Centre for Doctoral Training in Advanced Composites for Innovation and Science
The utilisation of composites is growing at an unprecedented rate, as illustrated by the significant UK technological contribution to both the Boeing 787 and Airbus A350 with composite airframes, the need for rapid development of renewable energy (wind turbine blades) and the nascent interest in large-scale production of automotive components by organisations such as BMW. Overall, industrial usage is within a period of exponential rise. Such exciting examples of new technologies require unprecedented interdisciplinary and multi-scale approaches.
The Centre for Doctoral Training in Advanced Composites for Innovation and Science (ACCIS CDT) was established in 2009 following a £7.1 million award from the UK Engineering and Physical Sciences Research Council. Our vision is to develop the next generation of technical leaders in advanced composites by stimulating adventurous interdisciplinary research, which bridges the length scales, connects to and interfaces between the disciplines of engineering, chemistry, physics and life sciences, and bestows enhanced and added functionality to composite materials. Ten fully-funded studentships per year are offered on our four-year multidisciplinary PhD programme in Advanced Composites. The programme comprises a one-year innovative taught component and a three-year research project, and is underpinned by a programme of skills training and professional development. Students are recruited from a variety of academic disciplines across engineering, science and mathematics.
We benefit from significant industrial support with current PhD projects being undertaken in collaboration with Airbus, dtstl, Embraer, EOARD, RNLI and Rolls-Royce. We also collaborate with other academic institutions and research centres locally, nationally and internationally. Find out more about our students and our research.