View all news
First class honours for mum-of-four after 'epiphany moment'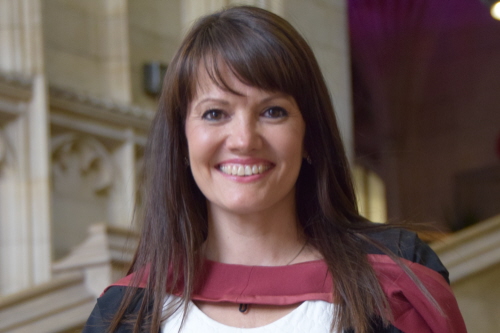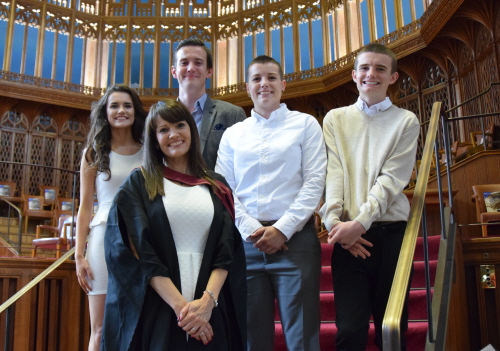 Press release issued: 23 July 2015
A single mum from Trowbridge, inspired to undertake a degree after a health scare and the death of her father, is embarking on her dream career after graduating with first class honours from the University of Bristol.
Annabel Morgan, 46, decided it was now or never after a traumatic series of events six years ago made her reflect on her life.
Despite having left school without any A-levels and being the sole carer for her autistic son Zack, Annabel graduates today [23 July] after excelling in her Sociology degree.
The mum-of-four will soon start training to be a primary school teacher and hopes her story will inspire other people to consider returning to education.
She said: "I had my first child as a teenager and always did jobs that fitted in around the children because they were my priority.
"But, at the end of 2008, a hysterectomy went wrong and I nearly died from internal bleeding. I had to have two operations to stem the bleeding and save my life. Then my dad died six months later and I was prompted to re-evaluate my life.
"That year brought home to me my own mortality. It was a real epiphany moment. I'd always wanted to complete my education and become a teacher, and decided it was now or never."
With Zack having started secondary school, Annabel enrolled in a two-year access course at New College, Swindon, while working part-time. On completion, she applied for a number of universities in the South West and was 'beside herself with glee' when she was accepted onto the undergraduate Sociology course at Bristol University.
She was even able to use her experience of Zac's autism for her dissertation and hopes to specialise in special needs when she qualifies as a teacher.
Annabel, who was joined by her family and new fiancé when she graduated, added: "It's been very stressful at times, trying to navigate bringing up two teenagers as a lone parent and travelling into university. I tried to fit my study into school hours and often had to work into the night once my youngest had gone to bed.
"At the back of my mind I knew I couldn't give up. I kept going and dug deep. I never in a million years thought I would get a first. I just approached it in small bite-size steps. To actually get to the final year and get through it was monumental. When I saw the results online I couldn't believe it; it was an incredible feeling."