View all news
Chancellor completes the 52 Faces of Bristol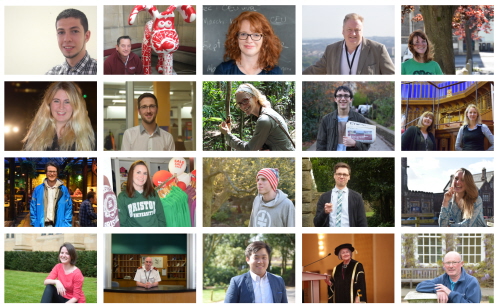 Press release issued: 23 July 2015
A year-long campaign, going behind the scenes and getting to know the many people who make up the University of Bristol, draws to a close today [23 July].
Every week, 52 Faces of Bristol has featured a photograph and interview with someone linked to the University to uncover their experiences, favourite places and memories.
From students to staff, academics to alumni, many people from many walks of life play a vital role in making the University of Bristol such a vibrant community.
It was inspired by the multi award-winning Humans of New York photoblog, which features over 6,000 street portraits and interviews, and run by student intern Emily Gillingham.
The final 'face' today is the University's Chancellor, The Right Honourable the Baroness Hale of Richmond, who is presiding over several graduation ceremonies this week.
Lady Hale became the first woman to sit on Britain's Supreme Court in 2004. Aptly, the campaign started with law undergraduate Lucy Preston in July 2014.
In the past 12 months, the social media campaign has reached an average of 10,000 people a week and it's been well-received by the University's 37,000 followers on Facebook.
Porter Ed Collins, who works in the Merchant Venturers Building, prompted a huge outpouring of affection from staff and students who he's helped over the years, with compliments such as 'He made being in MVB a happy place. Thanks for all your hard work and care, Ed, you're a real star'.
We've met everyone from Kim O'Donnell, who supervises the cleaning of the Wills Memorial Building, to quidditch playing student Isabella Aston.
Great George, the 9.5 tonne bell in the tower of the Wills Memorial Building, rang in Christmas with his whimsical take on the world.
The campaign has even featured a few familiar faces in the form of 2nd year Law student Jazmin Sawyers, who won a silver medal in the long jump at the Commonwealth Games, and University Challenge team member Lewis Rendell.
You can read all the interviews in the 52 Faces of Bristol album on Facebook.