View all news
Ready, steady, row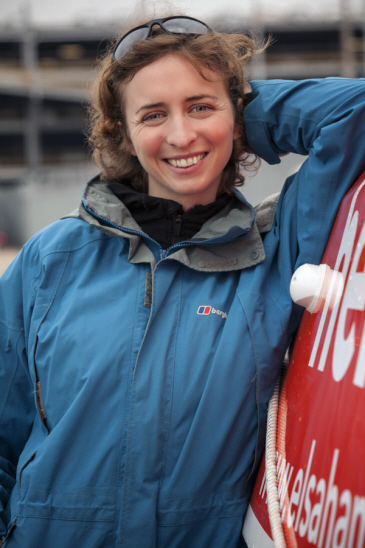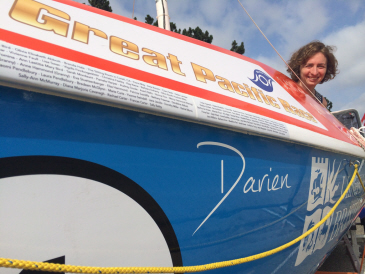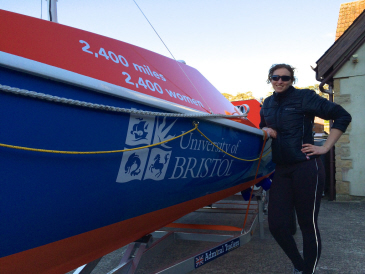 Press release issued: 4 June 2014
After many months of preparation and a 48 hour delay due to adverse weather conditions, Elsa Hammond will be setting off this Monday [9 June] from Monterey, California to row in the inaugural Great Pacific race.
Facing a three month solo voyage, Elsa, who is studying a PhD in English Literature at the University of Bristol, is aiming to become the fastest solo woman to row the 2,400 miles from California to Hawaii. She will need to consume up to 8,000 calories of expedition rations a day and will encounter 40 foot waves and great white sharks.
Elsa, and her boat Darien, have been in California for the past two weeks undergoing final preparations for the race.
This has involved final training on water, including spending the night in the boat, as well as familiarising herself with newly purchased communications and navigation equipment. The boat is having final tune ups, and small leaks that occurred as a result of being transported from Bristol to California are being dealt with. The boat has also been in the ocean for the first time.
Darien is a 24-foot purpose built ocean rowing boat, with the ability to self-right in the event of capsize and designed to withstand the conditions Elsa will face in the Pacific.
Elsa has undergone an intense regime to get to this point, juggling physical and mental preparation with fundraising activities, talks, courses and logistics.
She said: "I always knew it would be tough, it's hard for people to explain quite how tough and stressful it would be. The biggest challenge by far has been raising funds."
Elsa is raising money for two charities - the GREAT Initiative, which is a charity focussed on gender equality, and the Plastic Oceans Foundation, which raises awareness of plastic pollution in the world's oceans.
Despite apprehension about seasickness and encountering her first big storm, Elsa is keen to finally get under way on the row after a year of preparation. In Monterey she has already seen sea lions, seals and pelicans, but once further out to sea, she is hoping to see whales, dolphins and albatrosses as well as being able to experience the night sky miles from any source of light pollution.
The start of the row is considered to be the hardest part as not only are the rowers getting used to the boat, nausea, and equipment, but the wind is against them, constantly pushing the boats back to shore.
For Elsa as a solo rower, this is particularly difficult. Unlike the team rowers, she will not able to row constantly, needing breaks to rest and eat.
However, Elsa is planning on drawing strength from the names and achievements of inspirational women who are being nominated by members of the public as part of her 2400miles:2400women campaign.
On completion of her row Elsa plans to visit schools and to raise awareness of her chosen charities. Although on her return she initially plans to 'have some fruit, some salad, a long sleep, and hopefully have finished quickly enough to spend a week recovering in Hawaii'.
To nominate an inspirational woman or sponsor some oar strokes, please visit Elsa's website. You can follow her progress on the Great Pacific Race website or via her Twitter account.