View all news
Iain Elliott, 1942-2013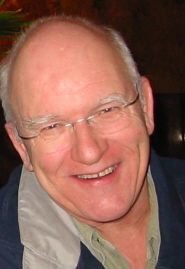 25 February 2013
Iain Elliott, a member of University staff for almost 50 years, died in January. His friend and colleague, Tony Macdonald, offers a tribute.
When the University celebrated its centenary in 2009, Iain Elliott had been a member of its staff for almost half of those one hundred years.
He joined straight from Cotham Grammar School in 1960, aged 18. He was appointed a junior technician in the Department of Physiology, where he learnt the basics of pretty much everything you had to do in a practical sense to research and teach the science. In 1964, when Chemical Physiology split away to form the Department of Biochemistry (under the leadership of Professor Philip Randle), Iain went with it.
Iain was a smart young man when he joined the University. He was quick to see that the availability of affordable electronic devices would revolutionise the way research was carried out. So, with a little help from the local Technical College and the wonderful MG Scroggie (writing as 'Cathode Ray' in Wireless World), he taught himself electronics.
In those early days if you didn't make your own kit you weren't in the game, and there were few manuals or signposts to show you how to do it. There's a 1980s book called The Art of Electronics which can be found on most experimental scientists' shelves. Well, in the 1960s and '70s it really was an art, and at Bristol Iain became one of its best artisans. Without his work and support many researchers couldn't have carried out their experiments.
Professor Herbert Gutfreund FRS (known to us all as Freddy) said: 'Iain was more than my technician; he was really a research assistant who developed first the analogue and then the digital installations essential for the success of the University's Molecular Enzymology Laboratory. I owe him a personal debt for his collaboration over at least 30 years.'
Later on, the Biochemistry and Pharmacology Electronic Workshops combined. Biochemistry then pulled out, leaving Iain working for Pharmacology alone. The demand for electronic support was tailing off a little by then, so Iain turned his attentions more towards managing the Department's computer and network needs. In his last year (2007) Pharmacology merged with Physiology – so Iain was back where he'd started some 48 years earlier.
I first met him in 1970 when he used to come to see my friend, colleague and boss Jeff Croker, who also died too early (in service in 2007). From the mid-70s I saw Iain almost every working day until he retired in 2007. Jeff, Iain and I were the electronics 'perennials' in the Medical School, working together for 30-plus years.
My overriding memory of Iain is that he liked to talk! It wasn't just because he liked the sound of his own voice – though I suspect he did! – it was because he was interested and curious about pretty much everything, in particular trains, cars, aeroplanes, photography, electronics, audio engineering and recording. Most importantly, he wanted to share this interest and the knowledge he acquired with others.
Here's a comment from one colleague (but you could find countless others who would say something similar): 'Iain was one of the last of the "real" technicians. Give him a practical problem and he would find a solution – or two or five! He was endlessly patient as he passed on his wide knowledge to me – I owe him a lot.'
The enduring picture I have of Iain is of him leaning against some bench in one or other of the workshops we inhabited over the years, in full oratorical flow. He only sat to read, solder or write lines of code – but talking was important and required him to stand so the words could flow forth more easily.
Some people were wary of him before they really got to know him. He could seem brusque and opinionated, but you would find that if you made the effort to make a connection with him he soon became a firm colleague and lasting friend – generous with his time, knowledge, ideas and bits of kit. His 'scrap box' was legendary.
His long association with the University was exceeded (just!) by his relationship with Bristol Hospital Broadcasting Service, which is thought to be the longest continuously broadcasting station of its kind in the world. He joined in 1963 and remained a member until his death. He was its Chair (for 32 years), Chief Engineer, Fundraiser, Station Manager on Wednesday nights, and a programme maker. He had a particular relationship with the Colston Hall, recording a variety of concerts for broadcast; his particular love was big band music of the 40s, 50s, and 60s.
Everything has its ending and the Second Law must have its way, but I know when I'm prevaricating over something I'll still hear his encouraging voice in my head saying 'Come on Tone!'