View all news
Hal Draper, 1951-2012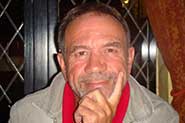 8 February 2013
Hal Draper, who died in December, was a well-known actor and comedian who worked for many years as a counsellor in the University's Disability Services.
Hal started with the newly created Access for Deaf Students Initiative (now Disability Services) in 1993. From the outset Hal provided a key point of contact for D/deaf students, and was able to offer support and guidance throughout their studies. He was keen to raise Deaf awareness among staff, and students, and later trained as a counsellor – a role he carried out with professionalism and respect to his student clients.
Having experienced the sudden onset of profound deafness as a child, Hal had a huge commitment to helping young D/deaf people cope with the challenges of learning in a hearing education system. More recently, he undertook outreach work with the University of the West of England and City of Bristol College providing counselling and support to their D/deaf students and helping students who had initially struggled with further and higher education to achieve their goals.
Hal was an excellent communicator and provided Deaf awareness sessions throughout the University, enabling staff to understand the challenges that D/deaf students face in their studies. These sessions were always full of his sense of fun as well as his dedication to ensuring equality of access.
Hal had a rich social life and was a prominent and much-loved member of the British Deaf Community. He helped arrange many social events at Bristol Deaf Centre and if anyone needed advice or a supportive chat, he would give it.
Hal was also a great stand-up comedian and actor, who starred in several films and the BBC's Deaf soap opera, Switch. He was a strong advocate for British Sign Language, constantly highlighting its beauty and promoting the right to use it.
Hal also loved watching snooker, tennis and golf; an avid Manchester United fan, at every World or European Cup he would decorate the office with flags of the world and organise an office sweepstake.
Those of us who were lucky enough to share an office with Hal in Disability Services laughed every day as Hal would always have a joke to share. He will be forever missed.
Hal is survived by his daughter Carmen, granddaughter Chelsie and his partner Lorna.