View all news
Theatre Collection awarded National Archives grant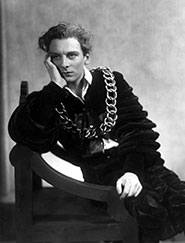 Press release issued: 16 January 2013
The University of Bristol Theatre Collection has been awarded £22,371 by the National Archives under the latest round of The National Cataloguing Grants Programme for Archives.
The grant for the Centre Stage: Backstage project will enable 1,500 boxes of archival material from the Raymond Mander & Joe Mitchenson Collection (M&M) to be catalogued and made available to the public. M&M was donated to the University's Theatre Collection in 2011, thus creating one of the world's largest collections dedicated to British theatre history.
M&M is the result of a lifetime's collecting by actors Raymond Mander and Joe Mitchenson. It was acquired through sales, auctions and donations from friends of Raymond and Joe such as Noël Coward, Sir John Gielgud, W. Somerset Maugham, Angus McBean and Dame Sybil Thorndike.
The reference boxes contain almost half a million documents including personal memorabilia, correspondence, playbills, programmes, engravings, news cuttings, photographs, scripts, prompt copies, and designs.
The boxes cover every actor, designer, director, writer and theatre of note over the last 200 years. The reference boxes represent just one part of M&M which in its entirety also contains a vast array of personal archives, artwork, costumes, artefacts, ceramics, photographs and props.
Jo Elsworth, Director of the University of Bristol Theatre Collection said: "We are delighted to receive this grant from The National Archives which enables us to take the vital first step towards unlocking the Collection's full potential. Raymond and Joe were actors with an insatiable appetite for collecting information about all aspects of theatre: the performances, the places and the people who work within the industry.
"With their theatrical connections they had a privileged insight into the world backstage. The result is a wonderful and unique collection which reflects both the public and private life of theatre. This grant will enable scholars and the public to access and enjoy this fabulous resource."
The grant is one of thirteen made by The National Archives (under their 2012 National Cataloguing Grants Programme for Archives) to collections that represent some of the most fundamental and fascinating archival holdings in Britain: the records of businesses, families, religious and arts organisations which are at the heart of understanding significant parts of our national story.
The programme aims to support a range of project types, from new acquisitions to foundation collections in need of revisiting. It is funded by a collective of charitable trusts and foundations including the Pilgrim Trust, the Foyle Foundation and the Wolfson Foundation.