View all news
'Old Photographs Fever' on BBC Radio 4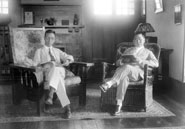 Press release issued: 10 July 2012
The Department of History's 'Historical Photographs of China' project is the focus of a documentary 'Old Photographs Fever: The Search for China's Pictured Past' to be broadcast on BBC Radio 4 at 11am on Wednesday 11 July.
The programme, produced by Mary Ward-Lowery, explores the project and the origins of the photographs the team has digitized. Through interviews with Professor Robert Bickers and Project Digitization Officer Jamie Carstairs, some of the owners of the original photographs as well as users of the collection in China, it explores the origins and value of this pioneering initiative.
In many case the descendents of foreigners who lived in China before its Communist revolution in 1949, or Chinese emigrants, possess unique photographic records of its people, society and culture, and records of its built heritage. A century of foreign invasion, civil war and political turmoil has left huge gaps in the historic record in China itself, and foreign collections in archives and especially in private hands, are of significant value as a result. Such was the popular enthusiasm in China for locating visual records of the country's past that commentators started talking about an 'Old photographs fever'.
Since 2006, with funding from the British Academy, ESRC and AHRC, the project has digitised and placed online over 7,500 historic photographs of China, mostly held in private hands across Britain. In 2011 with funding from JISC and in collaboration with a team in ILRT, a new platform Visualising China allowed users to search across the site and two other large collections of digitised images of China in the UK.
Professor Bickers said "As the programme shows, the response to our work from users in China – informal heritage groups, museum curators, and the general public – has been very positive and encouraging. We continue to be amazed at the materials that we uncover here in Britain, and that we are able to share with users across the world through our website. And we are fascinated by the human stories that come with the albums and prints we are shown."
Jamie Carstairs said: "Chinese historical photographs are a great resource for scholars, school children and indeed anyone interested in any aspect of China – I've found that perceptive reading of these photos is feverishly rewarding."