View all news
University project scoops prestigious Bristol Genius Award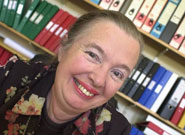 Press release issued: 22 May 2012
The Children of the 90s project at Bristol University has won the first Bristol Genius Award for its substantial work over the last 21 years exploring the health of a generation.
Over 40 entries were in the running for the new accolade, introduced by the
Bristol Festival of Ideas
to celebrate great ideas which have originated in Bristol and make people's lives better.
Children of the 90s, which is officially called the Avon Longitudinal Study of Parents and Children (ALSPAC), was chosen because its data is used throughout the world to help with scientific research.
Accepting the award, Lynn Molloy, ALSPAC's executive director, said: "I am delighted to accept this award on behalf of all our wonderful and dedicated participants, our hardworking and committed staff, and the first-class scientists we work with in Bristol and all over the world.
"In particular, Professor Jean Golding who had the remarkable vision to found the project all those years ago, and Professor George Davey Smith who succeeded Jean as scientific director and who is ensuring that ALSPAC is at the forefront of world-leading genetic and epigenetic research. The fact that this award comes as we celebrate our 21st birthday is metaphorical icing on the birthday cake."
The long-term health research project was founded at the University of Bristol in 1991 by Professor Jean Golding, who has been awarded an OBE for her involvement.
More than 14,000 mothers enrolled during pregnancy in 1991 and 1992, and the health and development of their children has been followed in great detail ever since.
The ALSPAC families have provided a vast amount of genetic and environmental information over the years. This resource is assisting scientists all over the world with research into a wide range of health problems.
The winner was announced at the Bristol Festival of Ideas prize evening last night [21 May]. The Bristol Genius Award was presented in association with BBC Bristol and The Post.