View all news
Bristol celebrates student success in low carbon research project competition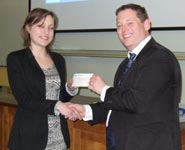 Press release issued: 16 May 2012
A University of Bristol student in the School of Chemistry has been awarded first prize in a competition aimed to recognise outstanding student research in the area of low carbon technologies.
Jo Humphrey, a final year undergraduate in the
School of Chemistry
, achieved this accolade for her exceptional work in developing novel new materials for fuel cell applications.
In addition to Jo, the three runners-up in the competition were:
Bretton Davis, University of Bristol, for his project on Model testing of self installing wind turbines (SIWT) for UK offshore round 2 development
Chris Kiely, University of Bath, for his project on the Actuator design for a variable-pitch cross-flow tidal turbine
Hamish Woodrow, University of Bath, for his project on Coupled CO2 sequestration and geothermal energy production
The competition, now in its second year, is promoted by Low Carbon South West, a partnership between businesses, academia, and local authorities promoting the growth of the environmental technologies and services sector in the South West.
Jo Humphrey, talking about the award, said: "I have loved carrying out my final year research project in the field of electrocatalysis and fuel cell technology, as it is a fascinating and exciting area of chemistry in its own right.
"However, when you also consider that the developments and discoveries could find real industrial application that will contribute to the improvement of existing low carbon technologies, it makes it even more rewarding!"
This year's event saw a wide range of high standard entries covering topics such as offshore renewable energy, electric vehicle technologies and carbon sequestration. Despite fierce competition from the three other finalists, Jo's research shone out both for its technical merit and clear potential to significantly improve the cost-effectiveness of future fuel cell technologies.
Fuel cells are electrochemical devices in which energy is produced by oxidation of a chemical fuel (typically hydrogen or methanol) at the anode and oxygen is reduced at the cathode. These spontaneous processes generate electrical energy with either zero or relatively low carbon dioxide emissions in comparison to combustion engines. Hydrogen and methanol fuel cells are already being commercialised for mobile power generation, in particular the automotive industry (electric vehicles) and consumer electronics industry, for devices such as laptops. A significant limitation of current fuel cell technologies is that the catalyst layer at the cathode and anode undergoes irreversible damage due to corrosion of their highly porous carbon layer support.
Jo's work within the Electrochemistry Group has focused on developing specialist low-cost diamond powders, which can replace conventional electrocatalyst coatings and offer significantly improved lifespans.
Dr David Fermin, Project Supervisor from the Electrochemistry Group in the School of Chemistry, added: "There is still work to be done on the project: the efficiency of the catalyst could be increased by, for example, maximising the effective surface area of the diamond powder support, and this is something that the Electrochemistry Group is actively looking into. Ultimately, the end goal is to trial our catalyst in real fuel cells. Jo has taken some vital first steps toward realising this goal and we are already working on a number of journal publications based on her research."
In addition to Jo, congratulations are also due to Bretton Davis, a third year civil engineering student, who was one of three runners-up in the competition. Bretton has been working on a project linked to the design of offshore wind turbine foundations, which will be vital in allowing turbines to be installed at deepwater sites around the UK.
Alan Bailey, Chairman of Low Carbon South West, and one of the judging panel for this year's competition, said: "One of the core objectives of Low Carbon South West is to forge links between industry and academia in the low carbon technology sector, with respect to both leading edge research and providing companies with high quality graduates who have relevant skills and expertise. This competition provides an ideal platform for promoting both of these aims and I look forward to seeing it go from strength to strength in future years."