View all news
Extraordinary success for Bristol engineers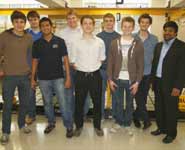 16 May 2012
More than a quarter of the national Royal Academy of Engineering Leadership Advanced Awards have been awarded to students at the University of Bristol - putting the University top in the country once again.
The ten engineering students, who have been selected as 'inspirational role models to the next generation of engineers' by the
Royal Academy of Engineering
(RAEng), are: Peter Cooper, Arthur Mitchell and Thomas O'Neill (Engineering Design); Dominic Chapman and Shashitha Kularatna (Aerospace Engineering); Matthew Oliver, William Thurston and Benedict Sayer (Civil Engineering); and Marcus Scaramanga and Macdara O'Shea (Mechanical Engineering).
The students competed in a challenging selection event against over 200 students from UK universities to win the award.
Professor Nishan Canagarajah, Dean of Engineering, speaking about the students' success, said: "I'm incredibly proud of all these students. To get a quarter of these prestigious awards when competing against students from seventeen universities across the country just shows how special our students are – very well done to all."
Professor Matthew Harrison, Director of Education at the Royal Academy of Engineering, added: "The Academy was delighted to see so many students of such a strong calibre apply for The Engineering Leadership Advanced Awards. We are heartened that talented engineering undergraduates are eager to pursue a career in industrial leadership at a time when there is a renewed focus on engineering and manufacturing to help boost the UK economy."
The students have very different plans for their three-year development programme. Shashitha Kularatna is going to use the award to do a small pilot training programme and learn another language, probably French. He is also planning to attend conferences overseas.
Will Thurston is going to undertake training courses and conferences with Engineers Without Borders (EWB), and is going to take Spanish classes in order, in the future, to work on international development projects in South America.
Marcus Scaramanga will be undertaking an EWB placement abroad with an NGO and will take an immersion course in Mandarin. He is also looking forward to the personal mentoring, from a senior engineer, which comes with the award, as he feels this will be very useful, as will going through the process of writing a personal development plan.
Another winner, Matt Oliver, is passionate about alleviating poverty and wants to use the award to equip himself with the knowledge and networks to be a future influential leader in the international development sector. This summer he is going to Tanzania with EWB for a two-week water, sanitation and hygiene training course. He also wants to focus his third and fourth year projects on this area, using contacts built through the award to facilitate this.
The objective of the awards is to allow ambitious, inspiring engineering undergraduates, who want to become leadership role models, to undertake an accelerated personal development programme. To achieve this, the winners receive £5,000 by the RAEng towards training and experience over a period of three years to fast track their engineering careers.
Seventy students were interviewed at the RAEng Leadership Advanced Awards selection event at Aston Business School in March. The event included rigorous activities including written tests, a selection exercise and an interview, as well as a welcome dinner. Interviewers included Fellows of the RAEng, Sainsbury Management Fellows and Alumni of the Engineering Leadership Advanced Award Scheme.
Further information
About the Royal Academy of Engineering
Founded in 1976, The Royal Academy of Engineering promotes the engineering and technological welfare of the country. Our fellowship - comprising the UK's most eminent engineers - provides the leadership and expertise for our activities, which focus on the relationships between engineering, technology, and the quality of life. As a national academy, we provide independent and impartial advice to Government; work to secure the next generation of engineers; and provide a voice for Britain's engineering community.
About the Royal Academy of Engineering Leadership Advanced Awards
The Engineering Leadership Advanced Awards provide motivation and support for some of the most exceptional engineering undergraduates in British universities, with the potential for high-level industrial leadership. Awards worth up to £5,000 per student are made to provide MEng students in the second year of a four-year course or the third year of a five-year course with carefully planned training and experience over three years which would otherwise have been denied to them.