View all news
Star alumnus David Walliams returns to Bristol for comedy show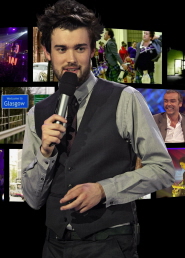 Press release issued: 17 April 2012
Drama students at the University of Bristol had the opportunity to see comedians David Walliams and Jack Whitehall as they formed part of the audience for a hit television show.
Hit the Road Jack
is a comedy tour of the country, with funnyman Jack Whitehall aiming to find the best that Britain has to offer.
Students from the Department of Drama: Theatre, Film, Television jumped at the chance to see two of the county's famous faces in action.
In tonight's episode, being aired on Channel 4 at 10.30pm, Whitehall is joined in Bristol by former drama student David Walliams (BA 1992) as he performs his stand-up routine in The Bottle Yard, an old bottle factory in Hengrove.
Before the stand-up show, Jack shares his experience of the West Country, staying with a local family and working on their farm. He also goes undercover as Banksy to witness how much Bristolians love their local hero.
Hit the Road Jack airs tonight [17 April] at 10.30pm on Channel 4.