View all news
Brave twins complete 570km cycle challenge to raise over £16,000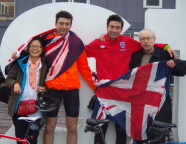 Press release issued: 13 April 2012
Twin brothers, who dramatically lost their sight to a rare genetic condition, have not only conquered a 570km cycle challenge but also overcome the added obstacles of freezing conditions, driving rain, sickness and dehydration to raise over £16,000 for charity.
Dan and Michael Smith, both 20, united with friends and family for a mammoth bike ride from London to Amsterdam. But they didn't expect to have such gruelling conditions to contend with as the unseasonal weather and physical impact on their bodies meant that the challenge was harder than they could possibly have imagined.
It involved over 38 hours of cycling, spread over four days, with temperatures plunging to below freezing and cyclists on occasion being left delirious from the exertion. Dan and Michael rode on tandem bicycles with their friends leading the way.
The team, made up of seven cyclists and the twins' parents in a support van, initially hoped to raise £3,000 for Blind in Business, a charity which helps blind and partially sighted people into work through their training and employment services. Media coverage of their plight captured the public's imagination and the tally has now surpassed £16,000.
Dan, who is studying Aeronautical Engineering at the University of Bristol, said: "It was ridiculously hard. The weather conditions were atrocious. No amount of training could have prepared us for the wind chill and rain on the continent. At one stage I had eight layers of clothes on and was still shivering.
"We cycled solidly for 13 hours on two of the days and were burning so many calories that we couldn't eat enough to replenish our energy levels. I was sick for three hours one night, but somehow managed to complete the final seven hours and finally arrive in Amsterdam.
"Morale was pretty low at times, especially when we got lost or one of the bikes broke down, but we got through it together. The main thing was that we made it to Amsterdam in one piece. Once our bodies have recovered then I know we will look back and be pretty chuffed that we managed to complete such a difficult challenge and raise such a huge amount of money."
Michael, who is in football training for this year's Paralympic Games, added: "The ride was pretty gruelling and I'm certainly still recovering from the wear and tear on my legs. I keep spontaneously falling asleep due to the tiredness from the trip. It's been a mental couple of months but something that Dan and I will never forget."
Dan and Michael's mission hit the headlines in February when they told of their cycle challenge and desire to live life to the full after being struck down by Leber's Optic Neuropathy, an extremely rare condition for which there is no known cause or cure.
Leber's Optic Neuropathy is the loss of vision as a result of the death of cells in the optic nerve, causing it to stop relaying vital information from the eyes to the brain.
Michael lost his sight in a matter of weeks while in his first year at Bart's and the London School of Medicine in 2009.
Because the pair are identical twins, Dan was told he had a 60 to 70 per cent chance of also going blind – a likelihood he describes as a "dark cloud" that hung over him during his first two years at the University of Bristol.
He had been preparing for his second year exams last Easter when he began to struggle to see through his left eye. Within two weeks his near perfect vision started to rapidly deteriorate.
The twins now have just seven per cent of their sight left and can see shadows in their peripheral vision.
Determined to think positively, the brothers have continued to study. Michael is a Geography undergraduate at King's College London and wants to become a disability lawyer, while Dan aims to become an investment banker.
Dan Mitchell, Training and Fundraising Manager at Blind in Business, said: "Cycling from London to Amsterdam is a gruelling challenge for any person, and an endurance challenge that many sighted people would steer clear of. For two virtually blind twins, it's shown their true determination to succeed.
"The staff and trustees of Blind in Business are extremely thankful for the team's hard work and persistence. The £16,000 they've raised will change the lives of blind and visually impaired people and make a real difference to our work in the coming year."
It's not too late to sponsor Daniel, Michael and the rest of their team, via the JustGiving website: www.justgiving.com/sevenmenfivebikes
Further information
About Leber's Optic Neuropathy
Leber's Optic Neuropathy, otherwise known as Leber's Hereditary Optic Neuropathy or LHON, is an inherited form of vision loss. Although this condition usually begins in a person's teens or twenties, rare cases may appear in early childhood or later in adulthood. For unknown reasons, males are affected much more often than females.
Often, people who develop the features of Leber's Optic Neuropathy have no family history of the condition. Because a person may carry a mitochondrial DNA mutation without experiencing any signs or symptoms, it is hard to predict which members of a family who carry a mutation will eventually develop vision loss or other medical problems associated with the condition.
About Blind in Business
Blind in Business was founded 18 years ago by three blind graduates. After graduating from university with good degrees they initially found it difficult to gain work due to misconceptions about their visual impairments. Through persistence, two became partners in leading law firms. The third went on to do a Master of Business Administration at Cranfield and became a successful businessman - he was the first blind person to gain this qualification.
They launched Blind in Business to help other partially sighted and blind graduates to compete equally with sighted candidates for good jobs.