View all news
Teenagers enjoy weekend away with UBU volunteers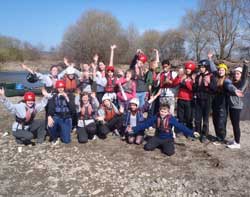 12 April 2012
Eleven teenagers with learning disabilities have been treated to a weekend of fun and adventure in Monmouthshire, thanks to the efforts of eight volunteers from the University of Bristol Students' Union (UBU) Volunteering's Pitstop project.
Pitstop is a student-led volunteering project run through the Students' Union. Volunteers organise day, weekend and summer trips for groups of teenagers with learning disabilities. It's a chance for the young people to be independent, socialise, try out things and learn new skills while their parents have a break from their caring responsibilities.
It was an action-packed weekend with a trip to Big Pit coal mine, swimming, an Easter egg trail, baking, cooking, boat trips, farm trips and canoeing.
Since returning from the trip, emails and cards from the parents have come flooding in, showing just how much the young people enjoyed their time away. One parent writes: 'I just wanted to say a massive thank you for making the trip so enjoyable for my son, he had a fantastic time! We felt totally reassured knowing he was well supported and having a great time with his peers and young, enthusiastic, dedicated people like yourselves.'
For the student volunteers, it's a fantastic opportunity to do something different. Clare, a medical student and one of the two Pitstop Project Coordinators, explains: 'To see the children interacting and being so enthusiastic, enjoying the weekend we have planned, is extremely rewarding. The friendships that have been built are wonderful, and it is fascinating to see how the children blossom, support each other and come out of their shell. We feel extremely privileged to be part of the big Pitstop family.'
Pitstop's next trip will be in July. If you are interested in becoming a volunteer, please get in touch with Phoebe or Clare, the Project Coordinators, at ubu-pitstop@bristol.ac.uk.
To find out about other UBU Volunteering projects, visit the website, pop into the Do It hub in the Students' Union or email ubu-volunteering@bristol.ac.uk.