View all news
Emma Holland, 1979-2011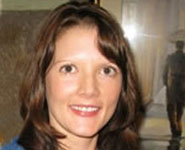 1 February 2012
Emma Holland, formerly manager of the Centre for East Asian Studies, died tragically young in December. Professor Ray Forrest pays tribute to 'an outstanding administrator and manager' who had 'a wonderful, if sometimes wicked, sense of humour'.
Emma Holland, who has died tragically aged 32, was quite simply an outstanding administrator and manager. She was also a great colleague who combined a very high standard of professionalism with a wonderful, if sometimes wicked, sense of humour.
Emma grew up in Swindon and attended Nottingham Trent and Loughborough Universities, where she gained her BA and MSc degrees in Criminology. She joined the School for Policy Studies (SPS) in 2001 as a research assistant with the ESRC Centre for Neighbourhood Research, a joint initiative with the University of Glasgow. The title of research assistant was rather misleading. There was some research involved but she was essentially the project co-ordinator, events organiser, web designer and manager – and various other things besides. Her super efficiency was quickly evident. Things happened with Emma, decisions were acted upon – sometimes rather faster than the rest of us were used to.
In 2003, Emma was given a wider and more administrative role in SPS. By that time she had decided that an academic career was definitely not for her. But she had learnt by then that academics needed to be carefully and patiently managed. Indeed, she seemed to regard most of us as rather curious, bumbling and anachronistic creatures, and her love of university life was always something of a mystery.
She was appointed the manager of the Centre for East Asian Studies in 2005. This was a new and innovative, cross-faculty initiative which offered a whole series of challenges associated with setting up an entirely new venture. Emma absolutely excelled in this role and was involved in every aspect of its activities. She managed the budgets, recruitment, postgraduate admissions and research projects, and represented the Centre at high-level meetings. It also brought her into contact with a wider range of people within and beyond the University. Without exception, they were always impressed with her management skills and efficiency. It was not unusual to hear colleagues refer to her as the 'best administrator they had ever worked with'.
Emma also entertained us with an endless supply of bizarre anecdotes. They were sometimes scarcely believable tales about academic foibles. Sometimes they were about strange events in her own life which seemed to occur on a regular basis.
She had updated her CV relatively recently. In that she describes herself as "A resourceful manager and a creative thinker who is hard working and able to handle multiple workloads with a great deal of autonomy." She was certainly all of that. She was just fantastic to work with. She is sadly missed by all of us.
Emma is survived by her husband Steve and baby son Harrison.