View all news
Bristol engineers take the lead again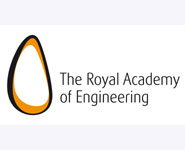 Press release issued: 16 November 2011
Five engineering students from the University of Bristol have won the national Royal Academy of Engineering Leadership Advanced Awards.
Keith Coventry and Peter Fletcher (
Engineering Design
), and Chris Jacobs, Eleanor Ruben and Rory Shanks (
Civil Engineering
) competed in a challenging selection event against 188 students from UK universities to win the national Royal Academy of Engineering
Leadership Advanced Awards
.
Professor Nishan Canagarajah, Dean of the Faculty of Engineering, said: "I was delighted to hear that despite strong competition from across the country our students have, once again, done so well. Our Faculty is committed to producing the leaders and entrepreneurs of the future and the winning students are an excellent example of Britain's rising engineering stars."
This year's award winners have ambitious plans for their awards. Keith Coventry hopes to enhance his awareness of cultural differences in engineering within different countries. He also wants to gain experience of various disciplines within the electrical engineering field. Peter Fletcher would like to attend one of the annual European Young Engineers conferences and learn from his allocated mentor.
Eleanor Ruben plans to improve her Spanish by taking a language course in South American, as well as developing her engineering interests by attending conferences around the world. Additionally, she would like to learn how engineering companies in other countries operate by gaining work experience abroad, perhaps in the USA.
Chris Jacobs has similar aims and hopes to use the award to subsidise an IAESTE placement next summer and possibly a Spanish immersion course in Barcelona or San Jose. Rory Shanks is keen to learn a foreign language to improve his versatility on the international stage and is looking at courses in management and professional improvement.
Candidates were required to participate in a range of selection activities that included presentations and interviews by Fellows of The Royal Academy, Sainsbury Management Fellows and alumni of the Engineering Leadership Advanced Awards' Scheme.
The objective of the awards is to allow ambitious, inspiring engineering undergraduates, who want to become leadership role models, to undertake an accelerated personal development programme. To achieve this, the winners receive £5,000 over three years to implement their personal development plan, devised in collaboration with the Royal Academy, providing them with the opportunity to acquire the skills needed to fulfil their potential.
The event took place at Warwick University in April. Seventy students were shortlisted to attend and 42 candidates were selected for the awards.