View all news
Interact with the sights and sounds of quantum mechanics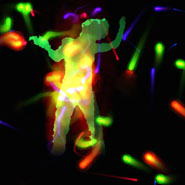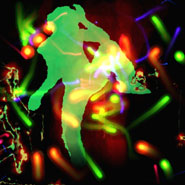 Press release issued: 4 August 2011
Step into and interact with visuals and sounds generated by quantum particle dynamics at Arnolfini this weekend – thanks to a unique fusion of art and science created by a researcher at the University of Bristol.
The Danceroom Spectroscopy (DS) project, developed by David Glowacki, a researcher in theoretical chemistry, and artists/musicians Phillip Tew and Lee J. Malcolm, uses cutting edge robotic technology, computing and real path integral physics to create a virtual world where a person's every movement warps interparticle force-fields, triggering sounds and images.
Visitors to Arnolfini this Sunday afternoon [7 August] will be invited to enter this virtual world and explore how their movement, captured using suspended 3D imaging cameras, warps an interactive virtual force-field, creating vortices and perturbations that affect the projected particle motion in predictable and unpredictable ways – much like making ripples and waves in a virtual pool of water.
In addition, DS uses some tricks from the field of statistical mechanics to generate accompanying soundscapes from the force-field perturbations.
David Glowacki said: "My research at the University of Bristol straddles the boundary where theoretical physics meets chemistry – where quantum models of interaction meet the multidimensional classical world, in an attempt to characterize and understand a range of microscopic molecular physical phenomena. The applications of this research are diverse – from understanding the earth's atmosphere to nanomaterials to biophysics to synthetic organic chemistry to astrophysics.
"I have a desire to convey to others the beauty and subtlety of the microscopic world. This, combined with my other far-ranging interests – from scientific instrument development and digital technology to art and cultural theory – are the inspiration behind Danceroom Spectroscopy."
Danceroom Spectroscopy takes place on Sunday 7 Aug from 1pm - 5pm at Arnolfini, 16 Narrow Quay, Bristol. The event is free and all ages are welcome. For further DS related info, visit David Glowacki's website.
The DS software is being written in C++ by David Glowacki and Phill Tew. Collaborators include the Bristol Pervasive Media Studio, Mike Ashfold, Lee Malcolm, Qu Junktions, Bristol University's Centre for Public Engagement, and Arnolfini. Funding is being provided through a successful grant proposal made to the EPSRC.