View all news
£1.2m study looks at treatments for children with speech and language problems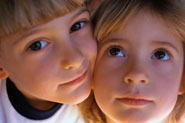 Press release issued: 21 February 2011
A major new research study that will identify and evaluate the types of treatment available for pre-school children with speech and language difficulties has been awarded £1.2million from the National Institute for Health Research (NIHR).
The study – the first of its kind in the country – will be carried out by
North Bristol NHS Trust
in partnership with the University of Bristol,
Manchester Metropolitan University
and the
University of the West of England
.
Barnardo's
and
Afasic England
are also supporting the project.
Approximately six per cent of all children in the UK will experience difficulties with their speech and language, in the apparent absence of any other problems with their health, development or intelligence. These children often experience difficulties with their education and with their social and emotional development as they get older. They are often isolated and at risk of being bullied and teased as they go through school. During their pre-school years they are usually referred for speech and language therapy support.
Professor Sue Roulstone, Clinical Research Director at the Speech and Language Therapy Research Unit at Frenchay Hospital, who is leading the research, said: "There are a number of ways of offering this support but we do not know what sort of help works best for which children and which families.
"Across the country there is considerable variation in how speech and language therapy services are organised, with little evidence to back up any particular combination of support.
"This research programme will identify the critical aspects of intervention that can be varied to help children with different needs and families in a range of differing circumstances."
Professor Tim Peters, Head of Bristol's School of Clinical Sciences, said: "The co-applicants at the University of Bristol are delighted to be part of this multi-disciplinary and multi-institutional programme of research led by Professor Roulstone. It continues longstanding and highly productive collaborations between the two universities in the city of Bristol in the field of children's speech and language development and therapy, as part of strengthening research links between these institutions in health research including child and adolescent health."
By the end of the three-year research programme, the team hope to be able to describe in detail the various ways therapists can provide support to children and their families. They want to list the methods which are supported by research evidence and identify which ones are perceived to be most helpful by families.
They will also look at how best to assess the needs of children and their families so that the right intervention can be offered to each individual child at the right time. Tools will be developed to help the therapists and families identify the right programme of support. These tools will also help therapists and the NHS more generally to evaluate the success of the individual programmes.