View all news
World's science heavyweights come to Bristol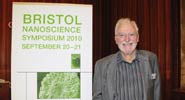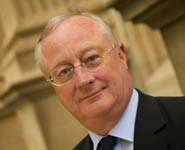 Press release issued: 22 September 2010
The University of Bristol achieved a scientific coup on two fronts in welcoming internationally celebrated figureheads, including Nobel Laureate Dr Heinrich Rohrer, to mark the scientific opening of the Centre for Nanoscience and Quantum Information.
The
Centre
, already hailed as a world-class environment for interdisciplinary, innovative research, was officially opened by the founding pioneer of nanotechnology Dr Rohrer on 20 September. The two-day symposium welcomed eminent pioneers from across Europe and as far afield as Japan, the USA, and Australia, in the fields of nanoscience and nanotechnology.
University Vice-Chancellor Professor Eric Thomas said: "Bristol prides itself in operating at the very cutting edge of research and discovery on a global scale. The official opening of the Bristol Centre for Nanoscience and Quantum Information marks a significant milestone, placing us at the forefront of collaborative, multi-discipline research in an area of technology which promises to be a defining factor in the 21st century."
Deputy Vice-Chancellor Prof David Clarke applauded the Centre as an example of the University's commitment to excellence in research, adding: "These are exciting times for both nanoscience and quantum information research, and I am delighted that Bristol is contributing strongly to both areas at the highest level."
The large portfolio of research projects already underway at the Centre involving collaborations with industry also drew speakers such as Prof Charles Bennett, IBM Fellow and one of the founding fathers in modern quantum information science; and Stanley Williams, Senior Fellow at Hewlett-Packard Laboratories, one of the Symposium's principal sponsors.
Other internationally renowned speakers included Dr James Gimzewski, a distinguished professor of chemistry at the University of California; Paul Weiss, director of the California NanoSystems Institute; Gabriel Aeppli, the Quain Professor of Physics and director of the London Centre for Nanotechnology; and Masakazu Aono, director-general of the International Center for Materials Nanoarchitectonics (MANA).
The £12 million purpose-built Centre houses a series of laboratories in which vibration and acoustic noise levels are among the lowest ever achieved, facilitating entirely new and novel levels of fundamental science.
From the first researchers who started experimenting in the basement in June 2009, the community has grown to over 250 people, drawn from ten different schools and departments across the faculties of Science, Medical Sciences, Medicine and Engineering.
The Symposium was also sponsored by Proctor & Stevenson.