Equality, Diversity and Inclusion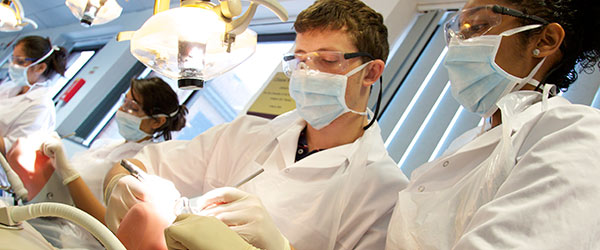 Bristol Dental School is committed to providing a positive working environment.
Equality, Diversity and Inclusion Committee & Athena SWAN Working Group
The School ED&I committee meet regularly to discuss all aspects of equality and diversity within the School.
To find out more, please contact us:
Athena SWAN Application Lead and ED&I Director: Dr Michele Barbour
Dr Mohammed Saqib

Clinical Lecturer in Oral Surgery

Mr Sina Gilannejad

UBDSS President and Undergraduate student representative

Dr Nihal Bandara

Senior Lecturer in Oral Microbiology

Ms Maria Hanks

HR Business Partner, Human Resources

Ms Melissa Hughes

BSc Dental Hygiene and Therapy Representative

Ms Imogen Johnson

BSc Dental Hygiene and Therapy Representative

Ms Ellie Tomkins

BSc Dental Hygiene and Therapy Representative

Mr Matthew Skeats

Postgraduate Research Student Representative

Dr Sam Leary

co-Head of Staff Support and Development, Associate Professor in Applied Statistics

Dr Charlotte Atkinson

co-Head of Staff Support and Development, Senior Research Fellow
Athena SWAN Awards
Athena SWAN awards recognise the advancement of gender equality, representation, progression, and success for all.
They recognise the efforts of organisations to ensure a positive working environment: that diversity is represented and valued at all levels: and that there is equality of opportunity for promotion and progression for all staff.
Events and opportunities
Events and opportunities are circulated to the School by email and via the School's weekly Research Bulletin. Student and staff successes are shared and celebrated via our School News page and student blog, The Articulator.
Information on University-wide events and podcasts of previous presentations are available from the Equality and Diversity Team.
Read more
How to avoid unconscious bias in reference writing: poster (PDF, 1,510kB)
Who Needs Athena SWAN? - Recording of Live Debate from Kings College London, 12th October 2016
Offline: Gender equality- the neglected sustainable development goal for health Article in the Lancet- Nov 2015 (PDF, 211kB)
Can motivations for studying dentistry inform us about gender and BME differences in dental academic careers?
White Fragility: Why It's So Hard for White People to Talk About Racism by Robin DiAngelo, Michael Eric Dyson (Foreword), Amy Landon (Narrator).
So You Want to Talk About Race, by Ijeoma Oluo
Why I'm No Longer Talking To White People About Race, by Reni Eddo-Lodge
Hostile Environment: How Immigrants Became Scapegoats, by Maya Goodfellow
How to Be an Antiracist, by Ibram X. Kendi

Useful links
Forming a point of contact for staff and students alike, the EDI Champions actively work to improve, promote and strengthen EDI within the School in accordance with our collective ambition. Find out who they are and get in touch.
Contacts
If you would like further information or if you have comments or suggestions about Equality, Diversity and Inclusion within our school, please contact ED&I team.