View all news
Bristol Chemistry #1 in the UK for Research based on Times Higher Education analysis of REF2021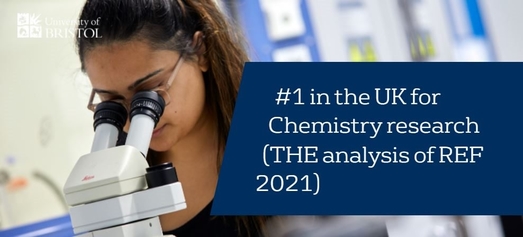 6 June 2022
The School of Chemistry is proud to announce that we have been ranked first for research across UK Chemistry Departments in the latest Research Excellence Framework (REF2021).
REF is the UK's system for assessing the quality of research in all UK higher education institutions, and the assessments run every 7 years (the previous REF was held in 2014). In REF2021, 100% of the overall School of Chemistry submission was rated either 'world leading' or 'internationally excellent'.
The Head of the School of Chemistry, Professor Emma Raven, said: "The UK hosts a number of world-leading Schools of Chemistry, all of whom we have enormous respect for. To have been judged, by our peers, as being ahead of all others in this REF is immensely pleasing and humbling. It's been a huge team effort."
Real-world scientific impacts
An important part of the REF process is to demonstrate real-world impacts from research carried out in universities. The Bristol submission thus included a number of impact case studies, show-casing how our work has had wide impact beyond the confines of academia. These case studies included the creation of eco-friendly artificial snow, our contributions to clinical and public health policy on COVID-19 transmission, a multi-million dollar deal for a new diabetes treatment, our input into global decision making on air quality and the recovery of cultural heritage during commercial archaeological investigations.
Professor Adrian Mulholland, the Director of Research, said: "We have embedded a culture that supports the creation of economic, entrepreneurial and societal impact across the School. These activities will help to address global challenges of the future, in health, energy and the environment."
Collaboration, diversity and collegiality
The success of our School is built on our academic strength across the whole discipline alongside a pipeline of talent early career researchers and PhD students, many of whom contributed to the REF process.
Professor Craig Butts, who led the REF-submission for the School said: "We pride ourselves on creating a supportive, collaborative and inclusive research culture that supports career development for early career researchers now and into the future. Preparing the REF submission was genuinely an exercise in polishing the diamond that everyone in the School created."