The SDGs – a great global collaborative enterprise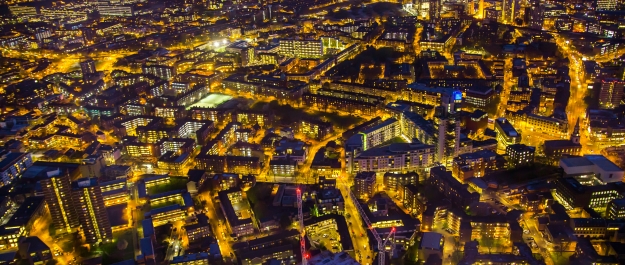 An introduction by Kathy Mc Ardle (Director England and Global Cities, The British Council).
Cities are one of mankind's greatest achievements, the places where many of our social, economic and technical innovations over the centuries come together.Cities have played a central role in the development of civilization, from the cultural crucibles of Athens in the sixth century BC and Florence in the fifteenth century through the industrial innovations of Manchester (cotton and steam) and Palo Alto (computing), to the contemporary densely populated urban conurbations of Asia. But the development of cities is now taking place on a global scale and at an unprecedented pace. This exponential urbanisation is a dominant global trend of the 21st century, fundamentally changing the patterns of millennia of human habitation. People and talent are also flocking to cities for employment and security, creating burgeoning population growth (and increasing inequalities) in cities fuelled by this migration. By 2050, it is predicted that an estimated 70 per cent of humanity will be urban. They are the spaces where our great global challenges manifest themselves most acutely and where cities and their leaders are urgently innovating to address them.
The British Council wants our cultural relations work to be relevant to the places and peoples where we work. To do this, we are engaging profoundly with the global shift in powers from nation states to cities, and the devolution of powers from a central national government to city regions. In the next ten years, we are working with the cities in our global network (c. 500 cities where we work) to understand the extraordinary scale of the challenges they face, the opportunities they present, and how our cultural relations and cultural diplomacy work can help create more prosperous, peaceful and equitable cities across the world. Cities are melting pots where, increasingly, living with difference is vital. They also offer an 'in-between cultural space' which can cohere complex multi-layered identities in a way that nations can sometimes struggle to do for all. Here our work in supporting civic participation & positive international and intercultural relations can have real impact.
The SDGs represented an enormous milestone in human progress. Signed up to by all 193 UN member states (including the UK), they give us a framework for mobilising international aid and development efforts to end poverty, fight inequalities and tackle climate change, while ensuring that no one is left behind. They propose an achievable vision for a more equal, inclusive world where improved ecological stewardship and a decent dignified life for all go hand in hand. The British Council's work that supports prosperity and development in countries around the world through connecting the UK with countries, institutions, cities and people globally, makes an important contribution towards achieving the SDGs and the UK fulfilling its international commitments.
Our work in cities is framed by the SDGs and these global challenges. We support city leaders to be agents of change in their cities through programmes like Active Citizens. Much of our work is directed at developing skills in young people to participate in what we identify as 'The Learning City' and 'The Working City'. The cities we work with are intensely networked, both internally and externally. We are therefore really pleased to be working with Bristol, a self-described city of 'slow urbanism and social innovation', to bring an international dimension to the pioneering work it is doing to mobilise the city around its One City Plan and the SDGs.
The SDG Alliance in Bristol is a great example of what we characterise as 'the networked city'. City challenges bring together different actors (including cultural, education and civil society organisations) enabling us to work collaboratively with these institutions to meet city priorities. Networked cities are bringing together public, private and civil society actors to collaborate with each other to address city challenges, but they are also looking to share learning, exchange knowledge and test potential solutions with each other on a global scale. Never before has mankind (its leaders and institutions) cooperated so closely together to improve our lives on the planet we call home.
The Cabot Institute for the Environment's VLR Handbook (PDF, 1,953kB) is a great example of this collaboration being done in a true spirit of generosity. Bristol is the first UK city to have carried out a Voluntary Local Review and the handbook offers a brilliant resource for sharing the methods used, and opens out their way of working to cities and local authorities in the UK. This kind of knowledge-sharing saves duplication of effort, offers clear structures for accountability, builds trust between cities and ultimately should accelerate the achievement of the SDGs.
There is much to be done on a global scale to reach the ambitious targets set out in the SDGs but initiatives like this, which are locally delivered but globally engaged, create urgency and momentum, and build a learning community between cities in the UK and around the world focussed on implementation and action. We urge you to read it, understand the journey Bristol have been on and begin to apply it to your local context. We also encourage you to share your learning in the same open way as Bristol have, and contribute back to the global movement around the SDGs. In 2030, we want to look back and see this as a mini-milestone for the UK in our contribution towards the SDGs globally. Thank you Bristol for taking this extraordinary initiative. Now over to you….
Download the VLR Handbook (PDF, 1,953kB)