View all news
A pioneering project transforming zero carbon emission technology has received £250,000 funding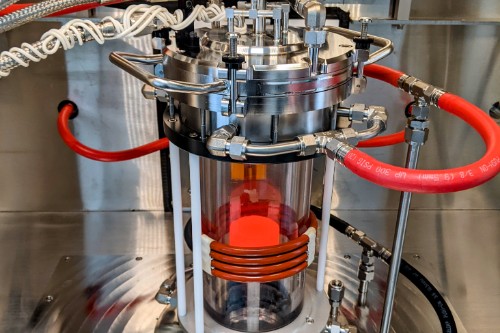 Press release issued: 30 September 2022
An industry-changing technique currently being developed at the University is one of 77 projects allocated funding from the Engineering and Physical Sciences Research Council (EPSRC) New Horizons initiative.
In April this year, a team of leading scientists installed the UK's first-ever machine to make layers of Gallium Oxide, the wonder semiconductor which forms the vital component of future revolutionary power devices with the potential to cut overall energy usage by around 20% in both domestic and industrial settings. As a result, power transformers currently the size of shipping containers providing energy to homes and businesses across the UK could be shrunk to the size of a suitcase.
Most power converters and electricity supplies such as power lines and plugging in electrical devices function by converting an AC voltage to another AC voltage, or an AC voltage to a DC voltage or vice-versa. Traditional transformers can be heavy, metal-based and inefficient due to the excess heat generated in the process, whereas more modern energy converting circuits are mostly made of more common Silicon (Si) semiconductor components.
Project lead Martin Kuball, Professor of Physics and Royal Academy of Engineering Chair in Emerging Technologies, said: "The imminent climate risks for our planet have been highlighted by the UN's Intergovernmental Panel on Climate Change (IPCC) calling it 'code red for humanity' in its scientific report in August 2021.
"Presently, nearly all energy conversion power electronics use Silicon (Si), which is relatively inefficient, wasting energy as heat.
"In this project, we target high voltage power devices using van der Waals epitaxy of Gallium Oxide to open a new research field for low cost high voltage power devices, to enable a zero carbon emission society and dramatically reduce our energy waste.
"This EPSRC New Horizon project benefits from the recent installation of the UK and Europe first commercial Gallium Oxide growth reactor in Bristol."
EPSRC Executive Chair Professor Dame Lynn Gladden added: "The adventurous thinking displayed in these new projects underlines the ingenuity and imagination of our research base, taking novel approaches to tackle major challenges.
"The discovery-led science we support is at the heart of the research and innovation ecosystem.
"Engineering and physical sciences underpins and advances research across all disciplines, catalysing the breakthroughs and technologies that deliver benefits and prosperity for all of society."
The investment builds on the more than 100 transformative New Horizons projects funded by EPSRC in 2020.
As well as supporting adventurous blue-sky research, New Horizons is a ground-breaking programme. The programme has trialled a streamlined application process to reduce bureaucracy and deliver a faster process compared to current standard funding routes.
EPSRC will now conduct further evaluation on the first two rounds of New Horizons and make an announcement on a further round in due course.