View all news
Cabot Institute for the Environment welcomes new Chair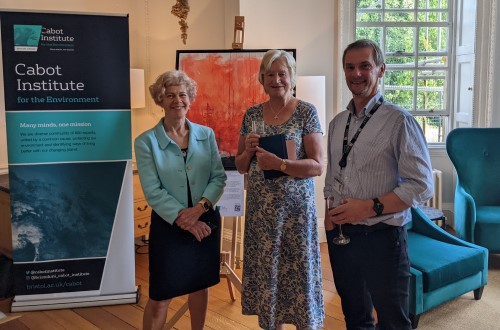 2 August 2022
On the 1 August 2022, the Cabot Institute welcomed Professor Louise Heathwaite to Chair our Strategic Advisory Board and we also bid a fond farewell to outgoing Chair Dame Professor Julia Slingo.
Dame Julia is best known for her tenure as Chief Scientist of the Met Office, where she was noted for breaking down the differences between climate and weather sciences and dealing with multiple meteorological challenges including the highly disruptive Icelandic volcanic ash clouds. Amongst her other achievements, Dame Julia has served as a high-level scientific advisor to the European Commission's Scientific Advice Mechanism and was the first female president of the Royal Meteorological Society. Dame Julia is particularly known for her passion for interdisciplinary research, which has been appreciated by the Institute over the last five years.
Dame Julia has contributed to and grown the Institute in myriad ways including mentoring exceptional early-career researchers and working with students on the Institute's unique Cabot Master's by Research in Global Environmental Challenges. She has supported large funding bids and helped to foster partnerships including helping to bring the University of Bristol into the prestigious Met Office Academic Partnership. She has also provided invaluable advice and encouragement to the Institute's Senior Management Team and shared her knowledge and passion for climate science with those inside and outside the University of Bristol.
Professor Guy Howard, Director of the Cabot Institute for the Environment said "On behalf of the Cabot community I'd like to thank Julia for her wise counsel, generosity and friendship that she has offered the Institute as Chair of our Strategic Advisory Board. Julia was instrumental in identifying the right person to take over her role and we are delighted to welcome Professor Louise Heathwaite as our new chair"
Professor Heathwaite will be Chair of the Strategic Advisory Board for the next three years. She is a hydrochemist and Distinguished Professor in the Lancaster Environment Centre, Lancaster University. She was appointed Pro-Vice Chancellor (Research and Enterprise) of the University in 2019. In 2018, she was awarded a CBE in the Queen's Birthday Honours list for services to scientific research and scientific advice to government. In 2015, she was elected a Fellow of the Royal Society of Edinburgh in recognition of the distinguished contribution she has made to catchment science and to science-policy engagement.
Professor Heathwaite said of her appointment, "I am so pleased to be joining the Cabot Institute for the Environment as your new Strategic Advisory Board Chair at a time when 'environment' in all its various guises is high on social, economic and governance agendas: there is so much to do, and the opportunities are there for those who are willing to innovate and engage – as the Cabot Institute clearly is. I look forward to working with you all to help support and inform your vision and direction in the months ahead."
Dame Julia said "It has been a real pleasure to work with the Cabot Institute over the last five years. What Cabot does is so important at a time when, more than ever, we need to understand our changing environment, how we can live safely and securely with it, whilst at the same time, protecting and nurturing the natural world. You have made great progress in breaking down disciplinary barriers and pioneering interdisciplinary thinking, but there is so much more to do. I am delighted that Louise Heathwaite will be your new Chair; she brings a wealth of experience in interdisciplinary environmental science and leadership which will serve you well. I wish the Cabot Institute a bright and successful future!".
As the new Chair of the Institute, Professor Heathwaite will be responsible for chairing the Institute's Strategic Advisory Board, providing strategic advice and support to the Institute, which meets biannually. She will also offer critical advice to help shape future delivery of the Cabot Institute's future vision and build the esteem and profile of the Institute. Even though Dame Julia has stepped down as Chair she will keep closely in touch with the Institute and its members.
Further information