View all news
Pioneering Bristol climate scientist scoops prestigious prize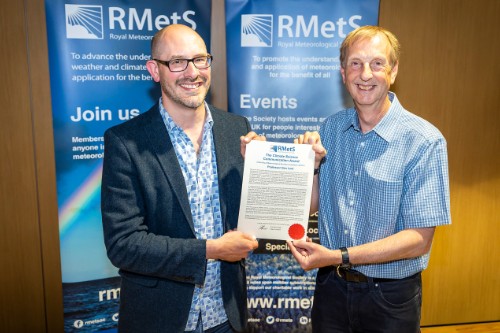 Press release issued: 9 June 2022
A University of Bristol climate scientist has won a major global award from The Royal Meteorological Society (RMetS).
Dan Lunt, Professor of Climate Science at the Cabot Institute for the Environment, received The Climate Science Communications Award at a special presentation in London yesterday in recognition of his pioneering work in paleoclimate modelling and novel, exciting ways of communicating this.
The work involved engaging via digital channels with accessible, yet informative, descriptions and animations of how climate models work, successfully conveying how changes in a planet's key attributes alter its climate. This included founding the European Geosciences Union journal Geoscientific Model Development and using fiction to model the climate of fantasy worlds.
Professor Lunt said: "I am hugely honoured to have received the Climate Science Communications award of the Royal Meteorological Society for 2021. Climate change has implications for everyone on the planet and communicating the science of climate change to a broad audience has always been a passion of mine.
"In particular, past changes in Earth's climate, from the last ice age, 20,000 years ago, to the super-greenhouse of the mid-Cretaceous, 100 million years ago, have provided an ideal setting in which to communicate the unprecedented speed of recent, human-induced changes. In addition, past changes put the scale of recent changes into context; for example, bubbles of ancient atmosphere trapped in Antarctic ice show there is more carbon dioxide in the atmosphere today than there has been for at least 2 million years."
Combining these expertise in modelling past climates with his literary interests, Professor Lunt has also simulated the climates of fantasy worlds including Tolkien's Lord of the Rings, and Martin's Game of Thrones.
Professor Lunt, from the university's School of Geographical Sciences and world-leading Cabot Institute for the Environment, said: "I was really surprised at how well this was received, and it has been particularly pleasing when school teachers have been in contact to say they have used these examples in class. This sort of engagement with young people through education is hugely rewarding. It is something the RMetS is doing amazing work with, for example, through their work developing climatological and meteorological materials for use in schools."
The annual Royal Meteorological Awards recognise people and teams who have made exceptional contributions relating to weather, climate and associated disciplines and are considered one of the most prestigious accolades in meteorology, with a history dating back to 1901.
There were outstanding entries from across the international community, with strong female recipients and leading-edge climate scientists and communicators.
Further information
About the Royal Meteorological Society
The Royal Meteorological Society is the UK's Professional and Learned Society for weather and climate. Working to strengthen the science and raise awareness of the importance of weather and climate, support meteorological professionals and inspire enthusiasts.
The Society is owned by its membership but exists for the benefit of all. It plays a key role as the custodian of both the science and the profession of meteorology in the UK and has an important role to play internationally as one of the world's largest meteorological societies. Programmes of work are broad and diverse, with activities and events held for members, the general public, educators, policy and decision-makers and the wider meteorological and climate community.
To find out more about the Royal Meteorological Society, discover a wealth of weather and climate resources, and become a member, please visit: rmets.org