Veterinary Nursing
Learn from clinically active experts and gain unique clinical experience onsite at our small animal hospital, and in a wide range of settings.
Accredited
Our Vet Nursing degree is accredited by the Royal College of Veterinary Surgeons (RCVS) and provisionally validated by the Association for the Study of Animal Behaviour (ASAB).
Unique clinical experience
Langford campus, on the edge of the rural Mendips, is home to our small animal referral hospital and award-winning, internationally-recognised clinical skills laboratory.
Teaching by experts
Benefit from evidenced-based teaching from clinically-active experts. Our teaching staff are researchers who are passionate about supporting student learning.
Veterinary Nursing courses for 2024
Single Honours
Veterinary Nursing at Bristol
Your degree will enable you to apply to join the RCVS Register of Veterinary Nurses. It is also the only Veterinary Nursing degree in the UK that fulfils the academic requirements for accreditation as a Certified Clinical Animal Behaviourist (CCAB). See the course page for terms.
We are also the only veterinary nursing higher education provider to offer clinical rotations around one of the highest-level small animal referral hospitals in the UK, located on site.
Taught across both the Clifton campus in central Bristol and our rural Langford campus, you'll gain a diverse student experience. You'll study with lecturers who are at the forefront of research developments in companion animal behaviour and will graduate with the specialist knowledge and practical skills required for prevention, diagnosis and treatment of problematic behaviours in companion animals.
You'll be taught by staff from our world-leading Animal Welfare and Behaviour Group and have access to Bristol's renowned clinical skills laboratory.
Career prospects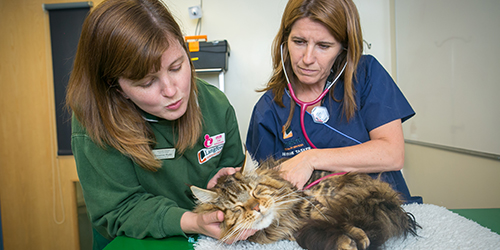 You'll graduate with a degree from a prestigious Russell Group university and be equipped for a wide range of career opportunities within animal behaviour.
Bristol's cutting-edge facilities and experts will make you highly employable and prepared for a diverse range of careers, with many graduates occupying senior roles in specialist referral practices.
Alongside opportunities in clinical nursing, you will be ideally placed to work in behaviour and welfare for animal charities and the commercial sector or to continue your practical training to become a certified clinical animal behaviourist (CCAB).
Opportunities exist in general veterinary practice, specialist veterinary referral hospitals, in veterinary schools, in animal charities and within the business sector.
Some of our graduates also go on to further study leading to a postgraduate qualification.
What our students do after graduating
Course structure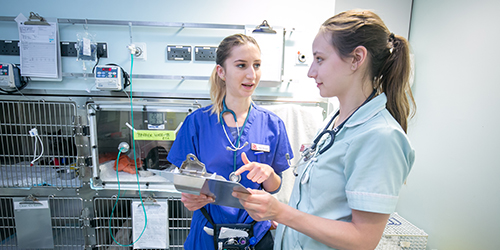 Year one: you'll learn the fundamentals of anatomy and mammalian physiology, the underlying principles and practice of veterinary nursing along with an introduction to professional practice.
Year two: you'll continue to study anatomy, whilst a clinical veterinary nursing unit introduces anaesthesia and fluid therapy, surgical nursing and theatre practice, medical nursing, diagnostics and therapeutics. You'll study the principles of animal ethology, behavioural development and be introduced to key concepts in clinical behaviour practice.
Placement: to meet the clinical placement requirements of the RCVS, you'll spend time in clinical practice during the vacation in years one and two, usually close to your home.
Year three: placement year spent in a first-opinion veterinary practice (currently within a 50-mile radius of Langford) and on rotations in the on-site referral hospital. You'll also study professional veterinary nursing practice through lectures and online tutorials.
Year four: units in applied clinical veterinary nursing, clinical skills in companion animal behaviour and a ten-week research project on a topic of your choice, supervised by one or more of our expert academic team.
Professional accreditation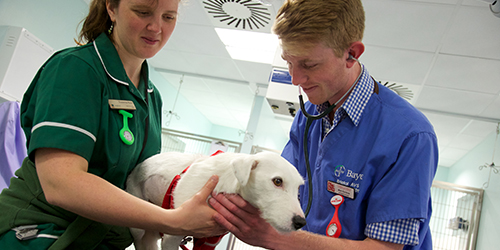 All graduates of this course are eligible to apply to join the Royal College of Veterinary Surgeon's (RCVS) Register of Veterinary Nurses.
Our BSc Veterinary Nursing and Companion Animal Behaviour is provisionally validated by the Association for the Study of Animal Behaviour (ASAB) fulfilling the academic requirements needed to become a Certified Clinical Animal Behaviourist (CCAB) and opening up a range of career opportunities within animal behaviour.