Pharmacology
Join our dynamic community to explore the actions and impacts of drugs, and learn how to design and develop new approaches to treating disorders such as epilepsy, schizophrenia and Alzheimer's.
Research excellence
94% of our Public Health, Health Services and Primary Care research is ranked world-leading or internationally excellent (REF 2021).
Become an expert
You'll work alongside leading researchers and be automatically enrolled as a British Pharmacological Society member.
Highly regarded
We are in the UK's top 15 for Pharmacy and Pharmacology (QS World University Rankings by Subject 2023).
Pharmacology courses for 2024
Single Honours
Pharmacology at Bristol
Pharmacology is the study of the action of drugs in the widest possible sense. It encompasses many different types of chemicals that affect the functioning of the body, not just medicines.
Our research-driven degrees in Pharmacology bring together physiology, biochemistry, molecular biology, chemistry and neuroscience. You will learn what drugs are, how they work and what they do. You will experience the approaches used to design and develop new drugs by investigating the effects of substances on single cells, organs and the whole body.
Pharmacology at Bristol will provide you with a broad foundation in pharmacology before focusing on our research strengths in the action of drugs on the nervous and cardiovascular systems. You will be taught by world-class academics in our excellent facilities. A dynamic online lab manual, eBiolabs, will enhance your practical experience.
We also offer Biochemistry, Biological Sciences, Biomedical Science, Cellular and Molecular Medicine, Neuroscience, Physiological Science and Psychology.
Career prospects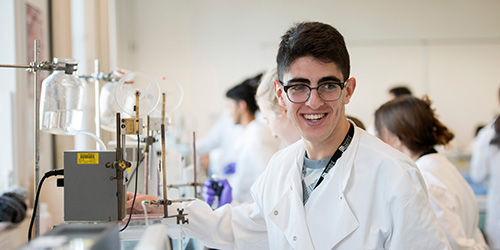 Pharmacology will help you develop skills valued by employers, such as data handling and communication skills.
A degree in pharmacology offers you a variety of rewarding career opportunities including pharmaceutical or biotech research, medical information, or medical sales.
Related careers and other popular routes include financial services, the civil service, the NHS, product management, marketing and finance or accountancy.
The majority of pharmacology graduates go on to further their education by studying medicine or completing a PhD, PGCE or MSc.
What our students do after graduating
Course structure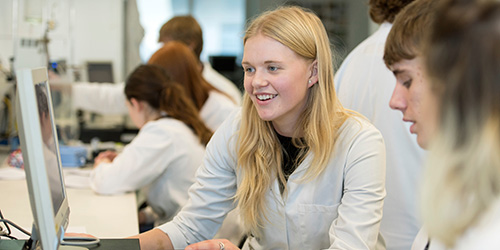 For the first two years, you will take core units in the School of Physiology, Pharmacology and Neuroscience. You will study important concepts such as drug design and how drugs exert their effects on the body; these concepts will then be applied to different body systems and diseases. You will also learn how the body works by studying physiological processes, and you'll study data interpretation, analysis and presentation.
In years one and two, you will also have a wide choice of optional units in multidisciplinary sciences, such as biochemistry, molecular genetics, infection and immunity, cellular and molecular medicine, and mammalian physiology.
The final year is research-driven and allows you to undertake a supervised research project with the expertise of our academic staff. You will also focus on current topics in pharmacology.
The fourth year of the MSci course will include an extended research project.
For students on MSci Pharmacology with Study in Industry, you will spend your third year on a placement with a major pharmaceutical or research organisation either in the UK or abroad. You will return to Bristol for your fourth year to complete a research grant proposal alongside final-year units.