Palaeontology and Evolution
Develop a deep understanding of the evolution of life on this planet through the study of geology and biology.
Friendly environment
Our excellent student-to-staff ratios mean all of our students become valued members of our community.
Learn with experts
We are ranked #2 in the UK for 'Earth systems and environmental sciences' research (THE analysis of REF 2021).
Hands-on learning
The whole Earth is our laboratory, and fieldwork is an integral part of our teaching. An exciting programme of field trips is included in your tuition fee.
Palaeontology and Evolution courses for 2024
Single Honours
Palaeontology and Evolution at Bristol
Palaeontology is the study of the life of the past. You will explore the evolution of life through a combination of geology and biology.
Our courses cover many aspects of palaeobiology, as well as earth sciences and biological sciences. Our degrees are interdisciplinary and provide you with a broad background in palaeobiological science, including state-of-the-art methods and technological advances.
Palaeontology and evolution at Bristol attracts great enthusiasts for the subject area, and the student cohort is tight-knit. You will join a large and vibrant group of experts in the field, with interests ranging from dinosaurs to plants to the origin of life.
You will become an analytical palaeobiologist with an understanding of the evolution of life in the context of this planet and its history.
We also offer Geology, Geophysics and Environmental Geoscience.
Think Big bursaries of £3,000 are available to support first-year international undergraduate students in this subject area.
Career prospects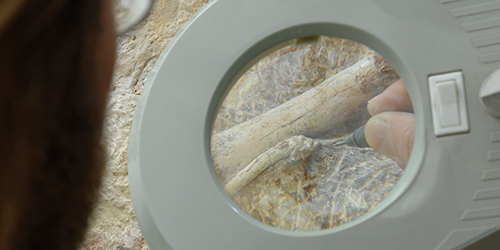 Our highly numerate graduates enter many different fields of employment. Some continue research to MSc or PhD level and enter academic careers.
Popular career routes include science education; written, digital and film media; outreach work; and the museum sector. The scientific skills you will develop on our courses provide opportunities to enter many professional careers in graduate-level jobs, including positions in industry, finance or law.
What our students do after graduating
Course structure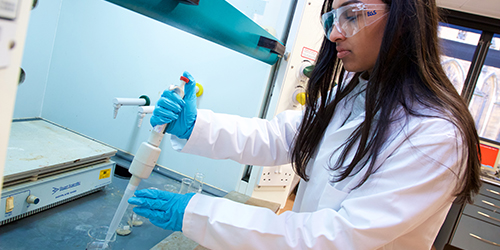 You'll be taught by renowned experts whose research feeds directly into your studies, meaning you'll learn at the cutting edge of scientific developments. By your final year, you'll be conducting your own independent research and exploring the questions that matter most to you.
You will deepen your understanding of major topics, including mass extinctions, macroevolution and climate change. You will study core units in geology and biology and, in the third year, you will study a range of specialist, optional units to suit your interests and career goals.
Our courses are delivered through lectures, laboratory-based practicals and organised fieldwork. Dedicated palaeontology field trips are included in your tuition fee.
You will develop independent learning skills and self-assess your progress with the aid of feedback from teaching staff. Your personal tutor will advise you and monitor your progress throughout your time with us.
Gain experience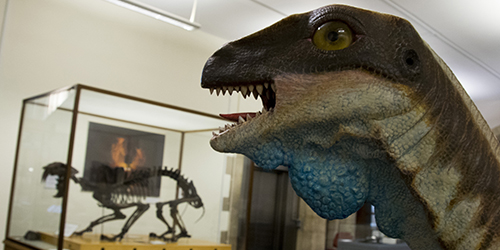 You can grow your skills and experience beyond the classroom with opportunities to participate in outreach activities or research internships.
We regularly offer exciting research opportunities where you can work with our leading experts on cutting-edge science, making your own contribution to your field while developing professional and research skills.
Many of our students also choose to volunteer with the renowned Bristol Dinosaur Project, conducting outreach in local schools and encouraging children to engage in science and the history of their city. You'll develop valuable science communication skills, give back to your community, and gain insight into teaching and outreach for your future career choices.