MB ChB
Gateway to Medicine
(

A108

)
Course overview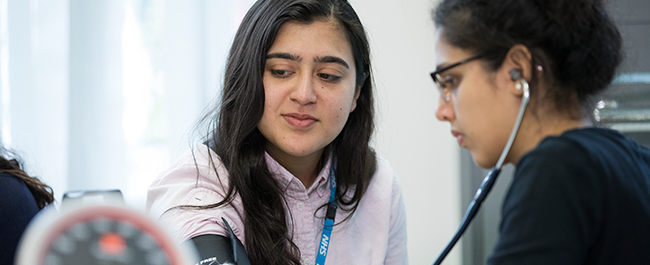 Typical offer
A-level standard offer: BBC
A-level contextual offer:
See entry requirements for full details and eligibility.
Course duration
6 year(s) full-time
Part-time study is not available for this course
Application method
Full-time: UCAS
The closing date for Medicine UCAS applications is 16 October. UCAS advises that no more than four choices from a possible five are used for Medicine.
Fees
£9,250 per year, home students
More about tuition fees, living costs and financial support.
International students
This course is open to applicants from specific schools and colleges in the UK only.
Location
Gateway to Medicine is aimed at students with the potential to become doctors but who do not meet the standard academic entry criteria to apply directly to our five-year Medicine course. Our Gateway courses are a widening participation initiative for UK students who fulfil specific criteria and wish to apply for a clinical programme.
During the Gateway year, students will learn alongside each other, benefiting from shared interprofessional insight and the unique community of Bristol's medical, dental and veterinary schools. Students will be taught by teachers who are scientists and clinicians.
The Gateway course builds on core basic sciences underpinning clinical subjects (chemistry, biochemistry, cell biology, anatomy and physiology); it encourages reflection and places emphasis on personal and professional development; strengthens practical, statistics, research and library skills; considers attributes and behaviours that enable successful transition to university study. Successful completion of the Gateway year allows automatic progression onto the five-year MB ChB Medicine.
Eligibility
This course is open to applicants from specific schools and colleges in the UK only and/or to those who have spent 3 months or more in care. Further information and lists of the eligible schools and colleges is available at Contextual offers.
The University Clinical Aptitude Test (UCAT, formerly UKCAT) is required for admission to this course. You may be eligible for a UCAT bursary to cover the cost of taking the test; please visit www.ucat.ac.uk for more information. The course admissions statement will provide full details and will be available online by September 2022.
Health and conduct
Certain health conditions may be incompatible with some careers in medicine. Further information can be found with our pre-course information, or you can contact our Occupational Health team.
If you have a chronic health condition contact the enquiries team for guidance on making an application.
Medical students must complete a health questionnaire and undergo a medical examination. Non-immune students must be immunised against hepatitis B and tuberculosis.
In accordance with General Medical Council guidelines, all medical students undergo a Disclosure and Barring Service (DBS) check in line with other UK health-related courses.
Course structure
Studies will include:
Basic anatomy, physiology, cell biology and biochemistry of the healthy human/animal;
Fundamental principles of chemistry;
Numeracy skills and statistics relevant to health sciences programmes;
Clinical professional attributes.
Clinically-relevant work experience.
Successful students will then join the five-year MB ChB course.
Full details about the course structure and units for this course can be viewed in the programme catalogue.
Go to programme catalogue
Entry requirements
We accept a wide variety of qualifications and welcome applications from students of all backgrounds. Below is a guide to the typical offers for this course.
A-level standard offer
BBC including B in Biology or Chemistry. Applicants with predicted or achieved grades of AAB or above (or points equivalent), or with A in Chemistry, are not eligible for this course.
BTEC
DMM BTEC Extended Diploma Applied Science (RQF): Grades DDM or DMM, including five specified Biology or Chemistry units in any combination. Applicants with predicted or achieved grades of DDD or above cannot be considered for Gateway programmes but could be considered for the five-year standard entry course instead.
Find out more about our BTEC entry requirements
International Baccalaureate Diploma
29 points overall with 14 at Higher level, including 5 at Higher Level in Biology or Chemistry. Applicants with predicted or achieved grades of 33 points overall including 16 at Higher Level, or with 6 at Higher Level in Chemistry, are not eligible for this course.
Scottish Qualifications Authority
Advanced Higher: BB including Biology or Chemistry, and Standard Level: BBBBC. Applicants with achieved or predicted Advanced Higher grades of AA, or with Chemistry at A grade, are not eligible for this course.
Access to HE Diploma
Not accepted for this course. Access to HE students are instead welcome to apply to the standard Medicine course.
Mature students can contact mature-students@bristol.ac.uk to check the suitability of their Access course.
Welsh Baccalaureate
Requirements are as for A-levels, where you can substitute a non-subject specific grade for the Welsh Baccalaureate Advanced Skills Challenge Certificate at that grade.
Cambridge Pre-U
Requirements for principal subjects are as for A-level, where D1/D2 is A*, D3 is A, M1/M2 is B, and M3 is C.
Applicants must also meet these requirements
GCSE profile requirements
Standard literacy requirement (4 or C in GCSE English or equivalent) and Standard numeracy requirement (4 or C in GCSE Mathematics or equivalent)
Further information about GCSE requirements and profile levels.
English language requirements
If English is not your first language, you need to have one of the following:
IELTS 7.0 overall with 7.0 in writing and 6.5 in all other skills
GCSE English Language grade B or 6
Further information about English language requirements and profile levels
Additional requirements
The University Clinical Aptitude Test (formerly UKCAT) is required. Bursaries are available to cover the cost of taking the UCAT - please see the UCAT website for details. Work experience is recommended; please see the Admissions statement.
More about UK qualifications.
Selection process
We select successful applicants based on the UCAS application, UCAT and interview.
Full information about our selection processes for this course:
Regulations and codes of conduct we abide by to create a positive environment for learning and achievement:
Key information about this course