MEng
Electrical and Electronic Engineering with Study Abroad
Course overview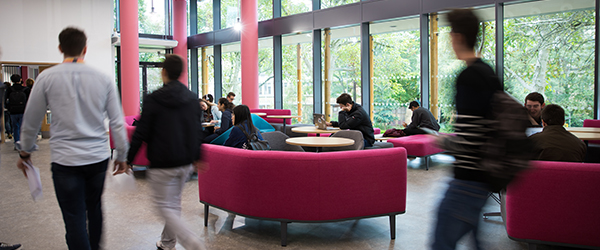 Course duration
4 year(s) full-time
Part-time study is not available for this course
Application method
Full-time: Entry by transfer
You can only transfer to this course after 1 year of study on MEng Electrical and Electronic Engineering (UCAS code H606). You cannot apply as an external candidate.
Fees
£9,250 per year, home students
£29,300 per year, international students
Please note, the international fee was previously advertised incorrectly.
More about tuition fees, living costs and financial support.
Location
Electrical and electronic engineering is one of the broadest engineering disciplines and uses cutting-edge technology to address some of the major concerns of the modern world. There is growing demand for skilled graduates to work in industries such as consumer electronics, alternative energy and transport, medical engineering, and communications.
This course provides full accreditation for the qualification of Chartered Engineer. Entry is by transfer from year two of the MEng Electrical and Electronic Engineering subject to satisfactory performance.
Years one and two provide a strong grounding in mathematics, computing, analogue and digital electronics, communications, electromagnetics, power electronics and control.
You will spend your third year abroad at an English-speaking partner university following a similar curriculum to the one taught in Bristol. To find out more about studying abroad, visit Centre for Study Abroad.
In your fourth year, you will have a choice of optional units and individual project topics, meaning you can focus on anything from electrical power systems to electronic communications.
Through our close collaboration with industry you will benefit from excellent employment prospects. Recent graduate employers include Intel, BBC, Dyson, Jaguar Land Rover, Siemens, Hewlett-Packard, EDF Energy and many others.
This course is accredited by the following organisations

The Institution of Engineering and Technology (IET) on behalf of the Engineering Council for the purposes of fully meeting the academic requirement for registration as a Chartered Engineer.
Course structure
Full details about the course structure and units for this course can be viewed in the programme catalogue.
Go to programme catalogue
Entry requirements
Qualifications
This course is available by transfer only. Please see MEng Electrical and Electronic Engineering entry requirement information.
International qualifications
The University of Bristol welcomes applications from international students, and we accept a wide range of qualifications for undergraduate and postgraduate study.
Search international qualifications
Selection process
Transfer onto this course is through a selection process in your department or school when you are a registered student.
Full information about our selection processes for this course:
Regulations and codes of conduct we abide by to create a positive environment for learning and achievement: