Cellular and Molecular Medicine
Our range of in-depth courses examine the fundamental mechanisms of devastating diseases and explores how science can discover new ways to treat them.
First-class facilities
Our outstanding facilities include state-of-the-art teaching and research labs and a unique online lab manual.
Turn science into medicine
Work with experts to understand the cellular and molecular basis of disease and how discoveries can be translated into life-changing applications.
Leading department
Bristol is ranked in the UK top 10 for Life Sciences & Medicine (QS World University Rankings by Subject 2021).
Cellular and Molecular Medicine courses for 2022
Single Honours
Cellular and Molecular Medicine at Bristol
At Bristol, our aim is to inspire you to turn science into medicine. Our flexible courses offer a focused training in biomedical sciences through the study of the cellular and molecular basis of human disease.
Taught by an international team of research scientists and clinicians, you will have the opportunity to complete a research project of your own that reflects our research interests in cancer biology, stem-cell biology and regenerative medicine, or infection and immunology.
Our innovative teaching includes resources designed to prepare you for practical classes by demonstrating concepts and experiments through animations, videos and pre-lab quizzes.
In lectures you'll study concepts at the forefront of knowledge about the mechanisms of human disease. Our teaching reflects our research, which aims to translate laboratory discoveries into clinical application.
Laboratory sessions underpin learning during the first two years and are integrated with eBiolabs online resources. Through project work you will develop experimental design and problem-solving skills.
We welcome applications from students who are also applying for medicine. If you're interested in a broader Biomedical Sciences degree visit our Biomedical Sciences course.

Career prospects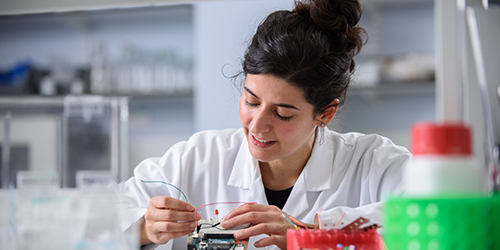 Many of our graduates go on to study for an MSc or PhD prior to a career in biomedical research or go on to study medicine.
Other graduates find employment in the biotechnology or pharmaceutical industries, work in academic or clinical laboratories, or choose to use their transferable skills in health services or non-scientific careers.
What our students do after graduating
Course structure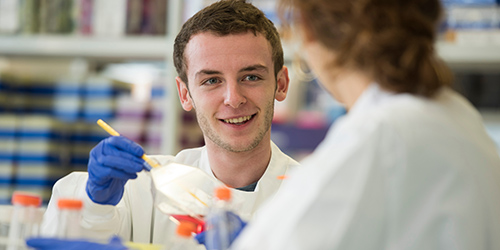 The first year of our courses will introduce you to topics including microbiology and infectious diseases; cell biology of normal and tumour cells; pathology and immunology; and biochemistry.
Year two will build on the broad foundation of year one. You will take core units including:
Infection and Immunity
Cellular and Molecular Pathology
Recombinant DNA Technology
Gene Expression and Rearrangement.
Employability and enterprise skills are part of all our degrees, and you'll graduate with an impressive range of transferable skills.
In the final year, you will take lecture units that appeal to your interests and apply your research skills in a project taking place within the school or in a laboratory at a nearby hospital.
We offer four-year MSci courses that include an additional research-intensive final year.
There is a great deal of flexibility and it is possible to transfer between courses as your interests develop. You can also transfer to one of our four-year Study in Industry degrees if you secure a placement during year two.
Student satisfaction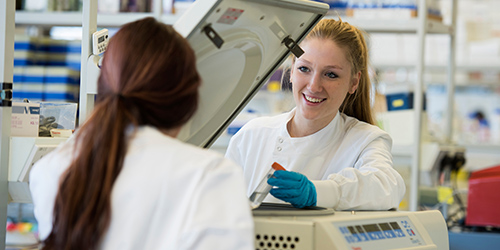 You'll join a close-knit and supportive community. Students on our cellular and molecular medicine courses are highly satisfied with the quality of teaching. 98% of students surveyed agreed that staff are good at explaining things, and 95% said their course is intellectually stimulating (NSS 2020).
Our courses also help develop career-ready skills. 96% of cellular and molecular medicine students agreed that the skills they developed during their time at university will be useful for their future careers (NSS 2020).