View all news
World Kaleidoscope Open for Viewers
18 December 2013
Year Abroad photographic exhibition as part of the Inside Arts Festival 2013.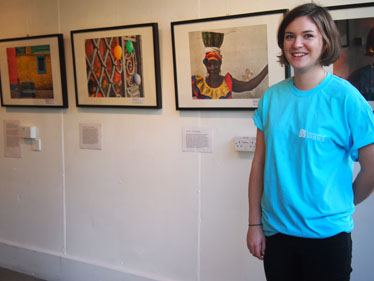 From 12-17 November 2013, the School of Modern Languages put on a public exhibition of 21 photographs at the Parlour Showrooms on College Green. The displays showcased student entries to our Year Abroad Photography Competition over the past five years.
The competition was originally meant to serve two aims: firstly, to help students reflect on their experiences abroad, as part of an undergraduate BA that deepens their understanding of other languages and cultures; and secondly, to promote the breadth of placements to the second-year students who are about to follow in their footsteps….. from charity work in the favelas of Rio de Janeiro and teaching primary-school children in Nice to an internship in the Rome Opera House and studying music in Saint Petersburg.
Over 200 people visited the gallery during the five days. Among the comments in our visitors' book were the following:
"small but great"
"I want a year abroad!"
"An amazing insight into a range of cultures"
"Amazing quality – difficult to believe these are not by professional photographers"
"Lovely photographs and comments by the photographers"