View all news
Modern Languages staff successfully complete charity bike ride
17 July 2013
Staff from the School of Modern Languages successfully complete the 200 mile 'Port to Port' cycling challenge in 3 days in aid of Leukaemia and Lymphoma research.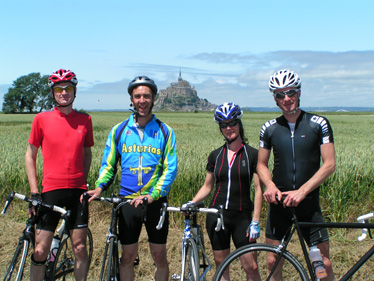 The inaugural annual School of Modern Languages sponsored charity bike ride took place along the route of the Tour de France in Brittany and Normandy on 4-6 July 2013.
The riders; Martin Hurcombe, Matthew Brown, Helene Duranton and Phil Adkins were supported by Marieke Dubbelboer, and covered over 200 miles in 3 days. The £1600 raised goes to support Leukaemia and Lymphoma Research.
En route, the riders took care to sample local cuisine from croissants to cider, garlic to mussels. The French public took the riders to their hearts, cheering them on as they passed by. The ride passed by the historic sites of St Malo walled city, Mont St Michel, and the rugged Normandy coast, littered with remnants of war defences.
Martin Hurcombe.