View all news
East meets West workshop at Bristol Metropolitian Academy, Fishponds
12 July 2013
A group of year 7 pupils at the Bristol Metropolitan Academy took part in an interactive workshop which gave them an insight on life under state socialism organised by the Department of German.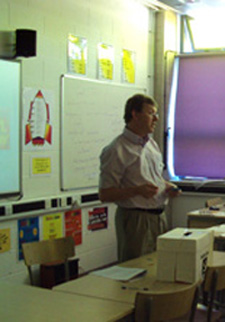 On 9 July 2013 room B.03 of Bristol Metropolitan Academy was transformed into a Socialist Republic as Dr Debbie Pinfold and Dr Mark Allinson of Bristol University's German Department presented a practical, interactive workshop on life under state socialism to a group of year 7 pupils. The pupils were given an introduction to the two political systems that dominated Europe during the Cold War and were then divided into a capitalist and a socialist society, where they were able to vote and shop according to the roles they had been assigned in the different states. A number of the dissidents living under Socialism were outraged to discover that even when they did not cast their votes, the Party (in the form of Comrade Allinson) still claimed a unanimous vote in favour of its policies, and they were also unimpressed by the limited range of foodstuffs in their shops. However, the pupils were also concerned to note that while those living under capitalism had far more chocolate and exciting leisure activities available in their shop, few of them had enough to be able to buy everything on offer and those with less well paid jobs came off very poorly indeed. Their socialist counterparts on the other hand were able to enjoy a number of free leisure activities and had enough money to pay for anything in their shop.
The workshop was part of the East meets West project a German department research initiative which has involved interviewing Eastern European migrants to Bristol, finding out more about their experiences of state socialism, and using the materials gathered to create a fuller and more nuanced view of life in the former Eastern Bloc so as to challenge prevailing stereotypes about migrants from these areas. Mark Allinson and Debbie Pinfold research the history and memory of the German Democratic Republic.
For further information about the East meets West project or about hosting an East meets West workshop in your school (different versions available for different year groups) please contact Debbie Pinfold (Debbie.Pinfold@bristol.ac.uk).