View all news
'We want to be free men!' - Launch event 9 May 2013
5 June 2013
An exhibition to commemorate the sixtieth anniversary of the June Uprising in the former German Democratic Republic
An exhibition to commemorate the sixtieth anniversary of the June Uprising in the former German Democratic Republic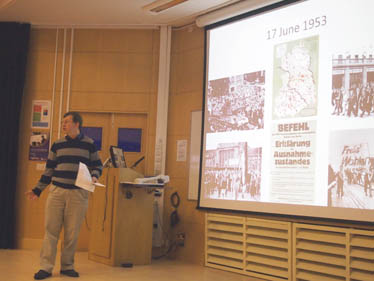 The Uprising of 17 June 1953 was the first and only popular revolt against the Socialist Unity Party in the former GDR until the Peaceful Revolution of 1989. What began as a spontaneous demonstration by East Berlin building workers against raised work norms rapidly developed into a GDR-wide protest against the socialist government and a general strike, in which calls for German unification were heard. The uprising was finally put down by Soviet tanks in scenes which presaged similar events in Hungary (1956) and Czechoslovakia (1968).
The idea that workers had risen up against an infant workers' state was a considerable embarrassment to the GDR government, which presented the uprising as the work of western agents who had led its workers astray. In West Germany, by contrast, the uprising was seen as a first attempt by their Eastern counterparts to throw off the communist yoke and to claim their inheritance as citizens of a united Germany: the 17 June was therefore commemorated as the Day of German Unity in the West until unification finally occurred in 1990.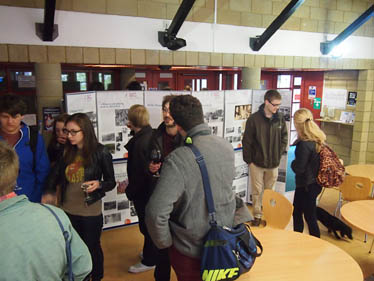 To mark the sixtieth anniversary of this event the Bundesstiftung zur Aufarbeitung der SED-Diktatur (Federal Foundation for the Reappraisal of the SED Dictatorship) has produced a poster exhibition which is currently on display in the School of Modern Languages Common Room, 17 Woodland Road. The exhibition was officially opened on 9 May when Dr Mark Allinson and Dr Debbie Pinfold, whose research interests include the history and memory of the former GDR, spoke on the background to the uprising and its place in German cultural memory and memory politics.
Amongst other things the talk included extracts from original film footage (both East and West German) of the uprising, as well as discussion of recent debates surrounding the erection of a memorial to the event in Berlin; as ever, the attempt to memorialise events that are still very much within living memory proved complex and controversial. The launch event was attended by a large audience of academic staff and students, and concluded with an opportunity to look at the posters in more detail over a glass of wine.