The Learning Forum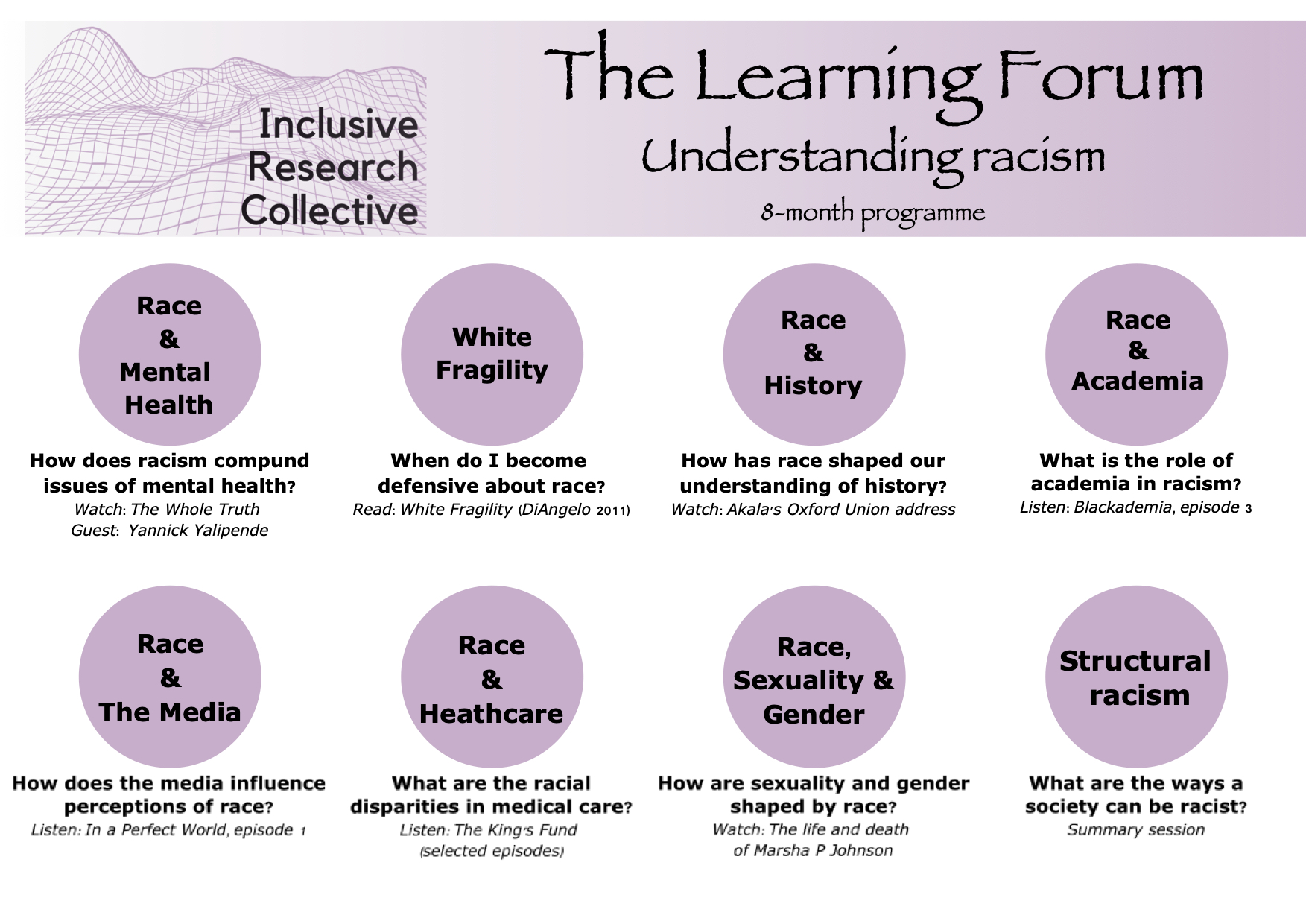 About The Learning Forum
Why was this group set up?
The Learning Forum was set up in recognition of the fact that those of us who hold positions of power and privilege have a responsibility to educate ourselves about the nature of the inequalities which confer these, so that we can start to undo them. This holds for many systems of oppression, but we will begin by focusing on race, largely due to this summer's resurgent Black Lives Matter movement. We also recognise that this process of learning needs to happen on an individual and a group level, we aim to facilitate the latter in the hopes that it will encourage the former. These discussions will benefit from involving a range of perspectives and experiences and we hope that people from all backgrounds will join and participate.
How will this group be run?
We, the organisers, want to be clear that we are not teaching this group, but facilitating and participating within it. All the resources and issues we plan to engage with are things that we ourselves need to learn more about in order to be actively anti-racist. We hope that other people will join us in doing this and will contribute their own suggestions for themes or resources. Although we have ideas for how the first series will be run, we are very open to changing this if anyone would like to get involved in organising the forum.
Who is this group for?
All people are welcome and encouraged to join this group. In particular, the voices of those who experience the oppression we are examining will be valued. However, we want to be clear that the intention of this group is for those of us with privilege, in the first series; white people, to examine the gaps in our knowledge and accept responsibility for doing the work.
What will this group do?
We will meet monthly (on the last Wednesday of the month) to discuss a different issue related to the overall series focus. Each month, a related resource will be recommended (such as a film, podcast episode, book chapter, etc) to give some awareness of the topic and help motivate the discussion. In some sessions, we will have a guest who will share their experiences and opinions with us.
The first series will run from November 2020 to June 2021 and will focus on understanding racism. Each month, we will seek to identify and explore the intersections of racism with factors such as mental health, the media or history.
To find out more and join out mailing list, please contact l.burguete@bristol.ac.uk or laura.mediavillasantos@bristol.ac.uk. See
We want this group to be accessible for all, so please let us know if there are any specific adjustments that we could make to help you attend and we will do our best to put these in place.
Rules/Guidelines for productive discussion
No inflammatory language (N-word, C-word, etc).

Listen actively and respect others when they speak.

Avoid playing devil's advocate, this is rarely useful for discussion and is often a way for people to avoid responsibility for the views they hold.
There is a difference between agreement and understanding. When discussing complex social and institutional dynamics such as racism, consider whether "I don't agree" may actually mean "I don't understand."

The existence of racism, and other systematic forms of oppression, is not up for debate. We are here to deepen our understanding of how these systems are implemented and what our individual roles/interactions are within them.

We do not have to be aware of racism for it to exist, and bear in mind that our racial position (whether we identify as white, a person of colour, or multiracial) could greatly affect our ability to see racism.

We hope that people of colour will feel able to share their experiences and contribute their perspectives to these discussions, as we feel that listening to people who experience/have experienced oppression is an essential foundation for the kind of work that is needed here. That being said, no one will be expected to lead discussion, document their experiences with racism or explain the actions of other people of colour, nor will the validity of their experiences be dismissed or questioned. White people have no experience of racial oppression and therefore cannot challenge the experience of those who do.
This holds for any group that has experienced oppression, e.g. people who are not Jewish should not challenge someone's experience of anti-Semitism.
Please participate as much as possible, we all benefit by sharing our experiences.

Respect confidentiality within the group. Whilst we hope that the lessons we learn together will influence our discussion outside the group, please do not share any personal anecdotes or information without the explicit permission of the person(s) involved.
Please stay muted unless asking a question/talking.
Please keep cameras on where possible, even when not speaking. Discussion is much better when we can see each other!

Feel free to put questions/comments in the chat to be read out by one of the facilitators, however we would encourage people to participate 'in person'.