Get to know your Subject Librarians!
We had a chat with two of our subject librarians Rosey Crow and Victoria Hopton to get an insight into what they do for their students, what they are up to and what exciting things they have coming up.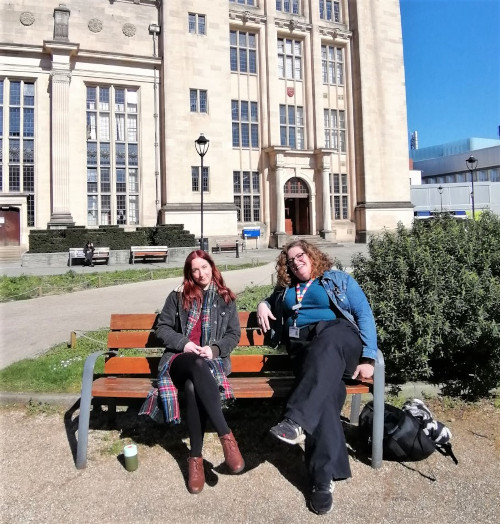 Rosey Crow is the Subject Librarian for Education, Policy Studies and Exercise, Nutrition and Health.
Victoria Hopton is the Subject Librarian for all Biological Sciences, Computer Sciences, all Engineering courses and Physics.
---
What kind of things can students get from a one-to-one with you?
Rosey: we help students find any kind of resource they need relating to their research or assignment. Some students know what they want but many need an extra hand so we see where they've already been looking and can go through options together. The quality of sources is a popular topic as well, when a student wants to know if a source they have found is good, or if they have received feedback that they need better quality sources we can most definitely help with that. We are more then happy to re-cover basics – got told something about referencing or databases in your first week but can't remember? That kind of thing we can go over, we are firm believers in no stupid questions. Sometimes, we don't know the answers either! But we go away and look for you and then come back and learn together.
Victoria: our one-to-ones are always friendly, open and reassuring spaces. We will ask lots of questions which will help us work with the student to map out the problem and consider options. With this approach both subject librarian and student can go away and research and come back for further discussion if needed. Our one-to-ones can be drop ins but the more popular option currently is booking in a session, where we can meet either physically or virtually at a time that suits the student best. Really want to reiterate that there truly are no stupid questions! And if a student is not sure if we are the right people to ask – ask us anyway as we can definitely direct you to the correct person of needed. Also, as an extra point, students can book as many meetings with us as they like over the course of their studies – unlike maybe meeting with a tutor there is no limit so don't be afraid to book in another meeting if something else crops up!
Where can students find you?
Rosey: When I am on campus I am based in either Education or ASSL, the exact times and locations can be found in my email signature, but we are very flexible to come and meet students when works best for them. Students just need to drop me an email and we can always sort something!
Victoria: Dropping an email to meet wherever and whenever a student needs. I do try and spend time in all my subjects building's so students are welcome to catch me when I am around.
What are your personal highlights from your collections?
Rosey: The collection of books in the Education's Bristol Reads section that I have been building is my highlight – they have a focus on introducing topics such as mental health or sexuality in settings that involve young people, that a social worker might use for instance. I've gathered a variety of formats through which to explore the range of topics, from novels to poetry to graphic novels. I'm going to be purchasing some more soon so it is exciting to see a collection like this keep growing!
Victoria: There is this beautiful, absolutely huge David Hockney book produced by Taschen out on display in the Queen's Library at the moment which we got last year which is always nice to look through. Another personal highlight from often being in Queens is the mural I got to work on in the relatively new study space called the Stacks on the lower ground floor of the building, there's various engineering inspired puns within the mural that you can look out for!
Have you brought anything of particular interest for your collections recently?
Rosey: We've recently purchased a new data base called Overton which is for policy documents, the content is from around the world so is particularly ideal for international relation students. Overton also includes the research that has gone into the policy documents which makes the data base not only really useful but also very reliable.
Victoria: Recently we have really been expanding our architecture and design books, mainly for our engineering students. It is particularly useful for those studying civil engineering or sustainability to consider design practices for their assignments. Looking at architectural design not only helps with inspiration but also with thinking about practical elements such as the built environment or user experience.
What exciting things are on your horizons at the moment?
Rosey: I have recently created a zine as an outcome from being involved in a working group both withing the Education department and the Library Services on de-colonising. The zine will hopefully be added to the library collection soon. I'm also presenting it as a poster at a LILAC conference (The Information Literacy Conference) coming up, the poster will include a QR code which will take you to a version of the zine you can print out and make yourself which I'm quite excited about!
Check out Rosey's zine here! Libraries are not neutral: a pocket sized guide to libraries
Victoria: I am also really looking forward to the LILAC conference, in particular learning more about how to support practical or industry-based courses that don't have tons of reading. It is also always just really nice talking to other people about their way of doing their jobs, you never know what tips or different perspectives you'll pick up!