Student Fitness to Practise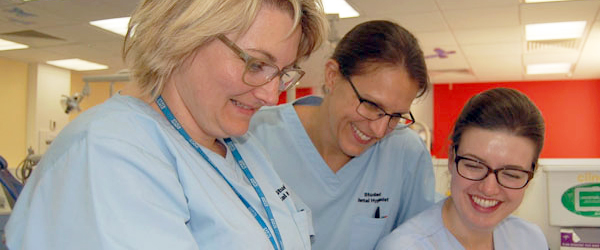 The Faculty operates a student referral process, to provide a constructive framework to support students to develop their professionalism. We aim to address any professional behaviour concerns early, offering an opportunity for students to reflect and be supported to develop the necessary professional and academic skills. The Faculty works with a wide range of University services to provide support to students where appropriate. The majority of referrals made about students do not result in fitness to practice implications, or the need to report information to professional bodies. The context for our referral process is supportive and developmental, with the aim of developing reflective professionals.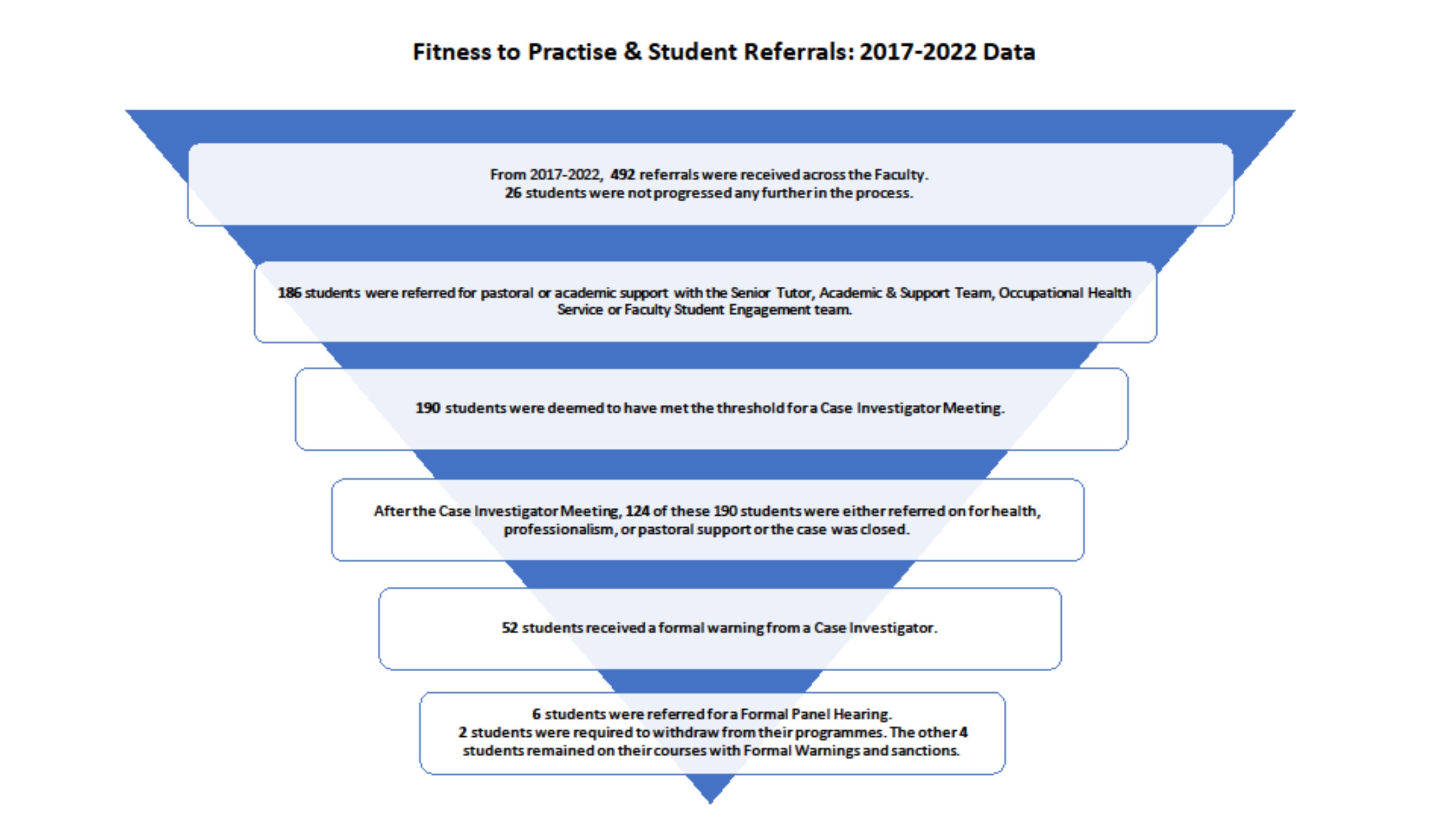 So what does Fitness to Practise mean?
Fitness to practise means ensuring that you are aware of your health and conduct at all times and are safe to be around patients, clients and members of the public. Student fitness to practise is called into question when behaviour raises a serious or persistent cause for concern about the ability to continue on a professional programme, or to practise after graduation.
Student Responsibilities
As a student training to become a professional, your professionalism is taken very seriously as demonstrating the required attitudes and behaviour which will be crucial once you become a member of your profession. Your responsibilities are to:
1. Ensure your behaviour is professional on placement, in University and in your personal life
2. Monitor and maintain you mental and physical fitness and seek support if your health deteriorates or impacts on your ability to study or engage with placement activities
You have a duty to report anything you are concerned about relating to yourself or another student that might impact upon fitness to practise. Choosing not to disclose something can be a serious breach of professional body rules and is usually more serious than the issue being reported. If you receive a caution, police warning or criminal conviction or are aware that you have broken any laws or University rules then you must report this by completing a referral form found in the top right of this page. The University will usually wait for any outstanding police matters to be resolved before investigating.
Reporting something cannot automatically remove you from the Programme and the University will always consider whether support can be put in place to enable you to continue. Only in serious cases will you be suspended from placement or the programme during an investigation. Suspension will be assessed on the basis of risk that you pose to the University community, members of the public and patients.
The details of the Faculty referral process and rules relating to students' fitness to practise are contained within the FTP Procedure document on the right-hand side of this page. Your Professional Body will also have detailed guidance on being fit to practise.
Relevant guidance from professional bodies
(i) Medicine - MB ChB and Gateway to MB ChB - The GMC produce guidance for students which can be found on their website.
(ii) Dentistry - BDS, Gateway to BDS and Diploma in Dental Hygiene - The GDC produce guidance for students which can be found on their website.
(iii) Veterinary - BVSc, Gateway to BVSc and Veterinary Nursing - The RCVS have the follwoing guides for Student Vet Nurses and Student Vets. The University of Bristol Veterinary Student and Veterinary Nursing Student Codes of Professional Conduct are also available on the "Programme Information" Section of Blackboard for each year of BVSc and Veterinary Nursing programmes.
(iv) Perfusion Science (MSc) - The Society of Clinical Perfusion Scientists of Great Britain and Ireland and The College of Clinical Perfusion Scientists of Great Britain and Ireland have rules and regulations guidance on their website.

(v) The University of Bristol rules and regulations for students are also available from our website.
Health Concerns
We welcome and value the contribution that students with health conditions or disabilities can make during their studies and in their chosen profession. We want to support you and provide you with the best possible opportunity to flourish. You may already have a condition that worsens or changes, or you may develop a health condition during your Programme. You must ensure the University is aware of any conditions that may affect your fitness to practise, not only so that we can support you but also so that patient or client safety is not compromised. It is a strength to admit when you need support and having insight into how your own wellbeing affects others is an important skill for health professionals to develop. If you report a change or a new condition the University will normally refer you to occupational health services to ensure all appropriate support and reasonable adjustments can be put in place.
If your condition has an impact on your fitness to practise once appropriate support and reasonable adjustments have been put in place, then this will need to be considered using the Fitness to Practise Procedure. The investigation may include liaising with your doctor or health care team to be able to make an accurate and detailed assessment of your health.
Student Referral Form
Complete an online Student Referral Form to make us aware of your concerns:
Guidance for Referrers (PDF, 83kB)
Please complete a separate form for each individual student. All reporters will receive an email confirming receipt of the form within 10 working days.
FTP Procedure Document 2021-22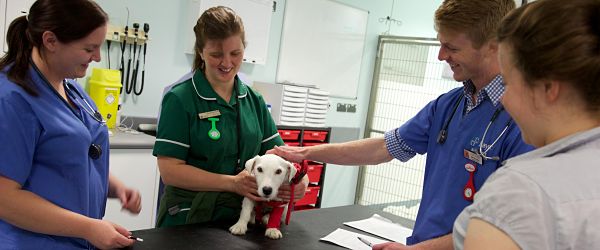 Referring Students
Any student, member of staff, or member of the public can make a referral about a student, by completing a referral form (found in the top right of this page).
All referrals will be dealt with confidentially and only shared with staff on a need-to-know basis. However, the information you provide, and your identity will usually be shared with the student who is being referred. We expect students and staff to provide their name and contact details when raising a concern. Anonymous concerns can be difficult to investigate or progress and will only be accepted exceptionally, at the discretion of the University Secretary. For information on the University's Policy on Whistle blowing, please see the University Secretary's Office website.
Examples of actions that would bring fitness to practice into question:
A breach of the University's Rules of Behaviour or Professional Body or Statutory regulations
Substance misuse
A criminal offence including any caution or reprimand or an ongoing investigation by the police or a relevant professional, regulatory or statutory body
A failure to advise the University of a criminal offence including a caution or reprimand
Physical or verbal abuse or intimidation of fellow students, patients, clients, colleagues, University staff or members of the public
Failure to rectify behaviour that has been subject to any disciplinary actions under the University's regulations
Repeated unprofessional behaviour
Falsification of documents, clinical, personal or academic records, data or research material; including signing in to teaching sessions for other students
Publishing, including via social networking sites, inappropriate material including statements and images
Physical or mental health condition which, despite reasonable adjustments or treatment, affects a student's fitness to practise
Breaches of confidentiality
Bringing the University or the profession into disrepute
What happens next?
Once a referral is made, it will be triaged by a group of Case Investigators (CI). They will make an initial decision as to the most appropriate route for the referral. They will consider a range of factors including any previous referrals made. They may then
1. Decide to take no further action.
2. Refer you for an Occupational Health assessment and to the Disability & Health Panel who will consider any support and adjustments required.
3. Refer you to a Personal Tutor, Senior Tutor or Student Wellbeing Services for pastoral support.
4. Refer you to meet with a nominated member of programme staff, who will discuss your behaviour with you and invite you to reflect on your professionalism.
5. Invite you to a meeting with a Case Investigator, who will seek further information about the referral before recommending an outcome. The CI may choose to impose a penalty at this point, to dismiss the case, or in serious cases, they may decide to refer the case to a full Fitness to Practice Committee, described in the policy.
Support at meetings
If you wish to be supported at a meeting with a Case Investigator or at a Formal Panel Hearing, you can bring a friend, supporter or other representative such as a member of the Bristol SU Academic Advice team. You'll need to tell the Administrator who has organised your meeting if you are bringing someone with you in advance of the meeting.