Arts, Activism and Social Justice Online Summer School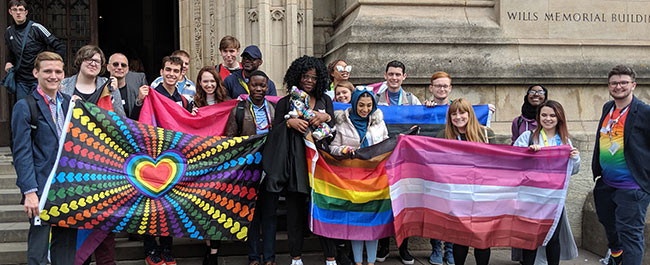 Are you a future community leader with a passion for social justice and activism? Do you want to learn from activists and change-makers working in the UK's thriving arts and voluntary sectors? If so, this three-week online summer school is for you.
Programme dates
13 June to 2 July 2021
Application deadline
Applications for 2021 are now closed.
Programme fee
£1,095
Your programme fee includes all tuition, workshops, guest lectures, and academic credit, as well as online sociocultural activities, supporting summer school staff, and any required learning materials.

We offer a £200 discount for mobility partner students (please contact us if you are unsure about your status) and for early-bird applicants who apply by 1 April 2021.
Credits
Upon successful completion of the programme students will receive 10 academic credits, suggested as equivalent to 5 ECTS or 3 US semester credits.
About this programme
Is it for me?
This programme is open to students from any academic discipline who want to understand the context for and learn the tools to effect change. This is a summer school with a difference: you will join local activists, community members, University of Bristol students, and Fulbright Commission scholars as you contribute directly to a city-wide movement of change.
We want you to share your experiences and knowledge in interactive and reflective sessions that invite you to think about Bristol and the UK's past, current, and future engagement with arts, activism and social justice, ultimately comparing and contrasting that engagement with that of your own home community.
The online summer school offers a mixture of synchronous and asynchronous learning. You can expect a variety of learning experiences, and should plan to commit to around 2 hours of synchronous learning per teaching day, with further asynchronous learning outside of those hours, as well as synchronous sociocultural activities throughout the summer school.
What will I learn?
The summer school focuses on six overlapping themes that are considered across geographic areas, including Africa, Asia, Europe, and the Americas:
Racism and social justice
Colonialism and independence
Global feminisms
Migration and refugees
Environmental sustainability
Health and wellbeing.
Academic programme
You might be asked to participate in reflective work, group projects, Q&A sessions, lectures, city-led workshops, History Commission activities, discussion groups with a BLM focus, and creative workshops.
Over the course of the summer school you will:
Discover how people from diverse social contexts have used a combination of philosophy and the arts as vehicles for social change
Investigate the role of literature, music, visual arts, poetry and storytelling, dance, philosophy and critical social theories in social justice movements
Learn about the key role of Bristol in the development of transatlantic slavery, the legacies of racism, slavery and colonialism, and the impact of these legacies on the lives of people today
Examine what responsibilities we might have today because of historical legacies of racial injustice
Explore how race and ethnicity intersect with gender in shaping social experience
Develop transferable skills for use in future leadership and social entrepreneurship
Get involved in a variety of community and civic activities
Develop leadership, teamwork and communication skills.
Entry requirements
You must meet all of the below requirements to be eligible for this summer school.
| | |
| --- | --- |
| Study level | Currently studying at undergraduate level |
| Academic requirements | GPA equivalent to 60-63% on the UK scale, C on the ECTS scale, or 3.0 on a 4.0 GPA scale |
| English language requirements | If English is not your first language, you need to meet our English language Profile C. You can see the tests and levels we accept by clicking the 'English Language Proficiency Tests' tab. If you took the CET-4 or CET-6 tests please contact us directly in order to find out what scores we will accept. |
| Age | 18 or over |
If you have any questions about your eligibility please contact us at global-summer@bristol.ac.uk.
How to apply
You will need to complete our short application form and submit the following:
A current university transcript
A short (maximum 250 words) statement explaining why you are applying to this summer school
A short (maximum 300 words) statement telling us about your experience with art, activism or social justice
Evidence of your English language skills if relevant.
If you have any questions about this process you can contact us at global-summer@bristol.ac.uk.