Our lab
The HPN Group has a strong experimental focus in the development of advanced technologies for future high-capacity, flexible and dynamic communication network infrastructures. The Group utilises experimental facilities of the Smart Internet Lab, comprising of several different feature-rich testbeds covering the physical layer all the way through to the application layer.
These facilities offer a wide variety of capabilities, including transmission speeds up to 1 Tbit/s per channel, full photonic elastic switching, Carrier Grade Ethernet, IP routers, optical and layer 2 SDN enabled (OpenFlow) switches, and transponders complemented by visualisation and Cloud infrastructures.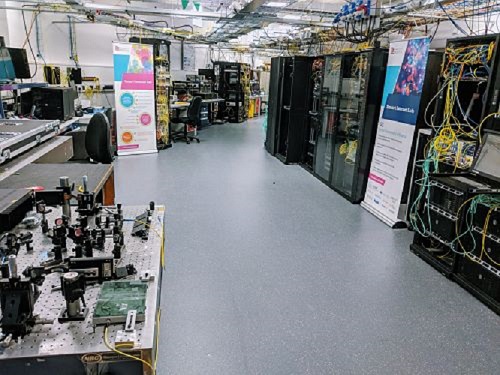 The underlying research network connectivity facilities accommodate direct fibre links to multiple sites around Bristol, a national dark fibre network link (NDFF), 1 & 10 Gbps dedicated wavelength services over the JANET network, as well as high speed dedicated connectivity over GEANT and GLIF to many research institutions in the UK, Europe, North and South America, Japan and Asia.