Equipment and facilities
The group has an extensive portfolio of test equipment and computation resources currently based around two laboratory facilities. The shaking table forms the core of the Earthquake and Large Structures (EQUALS) Laboratory and the Geomechanics Laboratories incorporates a wide range of static and dynamic soil testing equipment.
The group has recently been awarded funding for two new facilities which will be part of the national UKCRIC portfolio. The Soil-Foundation-Structure Interaction (SoFSI) facility will be a large reconfigurable facility capable of testing large foundations, reinforced soil slopes and piles under static and dynamic loading. The second is a systems-scale for the long-term monitoring, testing and modelling of integrated urban infrastructure systems and their interactions.
Facilities
Earthquake and Large Structures (EQUALS) Laboratory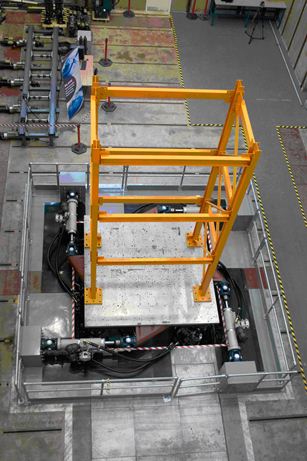 The EQUALS laboratory is a unique facility that combines strong walls and strong floors allowing a wide range of different types of structures (e.g. intake towers, bridges, buildings etc.) to be tested. The facility also houses the shaking table so that large-scale dynamic tests can be performed in addition to more conventional static or pseudostatic testing.
Shaking table
The shaking table comprises a 3m by 3m platform supported by 8 hydraulic actuators. The table can carry up to 15 tonnes and (depending on the loading) can reach acceleration levels up to about 5g with peak displacements of ±150mm, making it ideal for testing specimens to destruction. The specimens' behaviour can be recorded using accelerometers, displacement transducers, load cells and strain gages and other types of sensor. Typically between 50 and 100 sensors are used.
Seismic block
The platform sits inside a reinforced concrete seismic block that has a mass of 300 tonnes. The block is located in a pit in the ES laboratory and is isolated from the rest of the laboratory by a 20mm cork filled gap.
Hydraulic system
Hydraulic power for the ES is provided by a set of 6 shared variable volume hydraulic pumps providing up to 900 litres/min at a working pressure of 205 bar. The maximum flow capacity can be increased to around 1200 litres/min for up to 16 seconds at times of peak demand with the addition of extra hydraulic accumulators. The platform is attached to the block by eight hydraulic actuators arranged so as to make best use of the space available. The horizontal actuators are attached to the block by concrete filled steel box sections and to the platform by smaller closed triangular brackets. The vertical actuators are connected directly to the block and platform. Each actuator has a dynamic capacity of 70 kN and has a maximum stroke of 300 mm. The four vertical actuators each have a static section to carry the static loads of the platform plus specimen.
Digital control system and instrumentation
Built-in instrumentation makes information from three sources available to the DCS: each actuator having an LVDT within the cylinder and an accelerometer at the platform end of the piston. In addition load cells measure the loads applied by each of the actuators.
Full specifications for the table are available. For further information please contact Dr Adam Crewe.
Strong floor and reaction walls
‌The shaking table lives in a purpose built laboratory which incorporates 15m high strong walls and a strong floor allowing the group to do static or pseudo dynamic testing of very large structures.
Actuator portfolio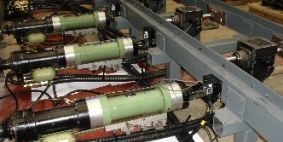 Custom one-off test arrangements can be built from a set of more than 20 stand-alone hydraulic actuators. These vary in capacity from 50kN to 250kN with strokes from 200mm up to 3m.
We have control systems capable of controlling up to 8 actuators at the same time. The displacements can be identical, time delayed or complexly independent depending on the application.
Geomechanics laboratories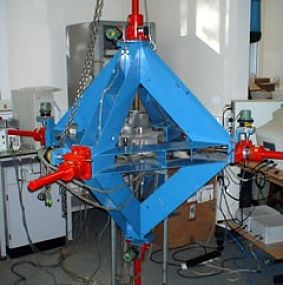 The geomechanics and geotechnics laboratories comprise a suite of temperature-controlled laboratories for research, project work and class teaching in fundamental geomechanics. The laboratories are equipped to carry out the normal range of geotechnical tests (routine strength, compressibility, permeability, index tests, etc.). In addition there is a temperature- and humidity-controlled sample store. The research laboratories contain a suite of advanced strength and stiffness test equipment as follows:
Bishop-Wesley hydraulic triaxial stress path equipment (38, 75, 100 mm samples) equipped for local strain measurement with computer control and datalogging software
CRS oedometer
Bender and extender element equipment for measurement of G0 and M0
Rigid boundary True Triaxial Apparatus Flexible boundary
Cubical Cell equipped with bender/extender elements
Dynamic hollow cylinder equipment.
For further information please contact Dr Erdin Ibraim.