Current Programme Structure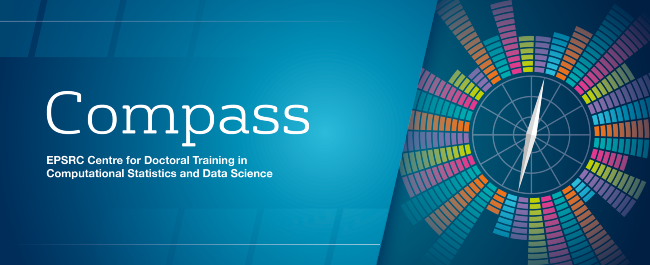 The Centre for Doctoral Training in Computational Statistics and Data Science (Compass) is a 4-year PhD training programme that addresses the pressing need, in the UK and internationally, for doctoral graduates who are able to combine fluency in both statistical and computational methods.
Compass involves a specially designed taught first year that is delivered through lectures, workshops, laboratories and guided self-study, and includes peer-supported learning and group work. In year one, you are required to complete six mandatory taught Level M units.
The Compass teaching team has been chosen to provide training in novel statistical theory and methodology and a strong link between theoretical advances and application areas.
PhD Research Project
PhD projects and supervisors are matched to students during the first year and proposals are developed through the summer of the first year. Full-time research project work starts in October of your second year. Discover more about the PhD project allocation process here.
Additional training
Using the network of instititions and organisations available to the School of Mathematics, Compass students have further opportunities for training:
Alan Turing Institute (ATI)
The product of an ongoing relationship with the Institute of Statistical Sciences and the Alan Turing Institution is the opportunity for Compass CDT students to undertake a number of masterclasses in data science and AI, participate in placements allowing access for ATI training and resources.
Academy for PhD Training in Statistics (APTS)
APTS organises, through a collaboration between major UK statistics research groups, four residential weeks of training each year for first-year PhD students in statistics and applied probability nationally. Compass students attend all four APTS courses hosted by prestigious UK Universities.
Our team of PhD supervisors incorporates world-leading statisticians and data scientists, and experts from the Faculties of Health Sciences, Engineering, Social Sciences and Law and Life Sciences.