British Hydrological Society Peter Wolf Symposium 2016
26 May 2016, 9.00 AM - 27 May 2016, 7.00 PM
University of Bristol and Sheepdrove Organic Farm
The British Hydrological Society's Peter Wolf Early Career Hydrologist's Event 2016 was held at the University of Bristol on the 26-27 May 2016.
The Symposium was an opportunity to share recent work on hydrology, hydrogeology and water resources.
Download the Book of Abstracts (PDF, 2MB)
BHS Peter Wolf 2016_flyer (PDF, 401kB)
Programme
26 May 2016: Oral and Poster presentations
The first day of the Symposium will be dedicated to oral and poster presentations from the delegates. Furthermore, two keynote speakers have been confirmed:
Dr Andreas Hartmann is a lecturer at the University of Freiburg, Germany. He is an expert in karst hydrology, with a particular interest in water resources in a changing environment.
Michael Norton is an expert in water engineering, water supply, water resources, wastewater and stormwater challenges. He has been involved in a wide range of projects, in many different parts of the world, and in partnership with universities, public and private sector.
27 May 2016: Visit to Sheepdrove Organic Farm
We will visit Sheepdrove Organic Farm in Lambourn, Berkshire. Sheepdrove Farm is an interesting site from an ecological, hydrological, geomorphological, and land-surface processes perspective. As part of a NERC-funded research project led by Dr. Rafael Rosolem (University of Bristol), hydrometeorological sensors have been installed in the farm to better understand soil moisture and surface energy flux heterogeneity. The field trip will include a visit to different measurement spots. In addition, we will also visit the farm information centre, where a farm ecologist will provide a general talk about farm management practices and local ecology.
Venues
Venue on 26 May - Engineer's House, Bristol, start 9 am
Venue on 27 May - Sheepdrove Organic Farm, back in Bristol before 7 pm
Accommodation
Delegates have to book their own accommodation. Download our suggested list of accommodation in Bristol - BHS Peter Wolf 2016_Accommodation (PDF, 194kB).
‌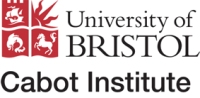 Contact information
If you have any enquiries, please contact bhs-peter-wolf2016@bristol.ac.uk
This event is sponsored by the British Hydrological Society and the Cabot Institute.