The Uncertain World: A public dialogue
17 October 2015, 2.00 PM - 17 October 2015, 5.00 PM
Hamilton House, 80 Stokes Croft, BS1 3QY, Bristol
A public dialogue, as part of the Bristol 2015 European Green Capital Summits Programme, to collaboratively explore and understand our changing global environment, how it will affect our lives and how we can thrive within it.
Human activity has direct and indirect impacts on our climate, environment, life and society, and the more we reshape our planet the more uncertain our future becomes. In particular, our complex environment complicates forecasts of climate change and resource security. And this is particularly true when environmental complexity meets the equally profound complexity of our cities and society.
Through late 2014 and all of 2015, the Cabot Institute has been hosting lectures, workshops and other events that address understanding and thriving in this Uncertain World. On 17 October at Hamilton House in Stokes Croft, we want to put the focus on our fellow citizens of Bristol.
Throughout the year, we have been inviting your reflections on environmental uncertainty and the Hamilton House will be both an unveiling of what we have learned so far and a provocation to our audience to guide us. What aspects of environmental change seem most uncertain to you? Which of these are most concerning to you? Or are environmental concerns subordinate to more pressing issues such as your food and energy bills or changes in benefits? How do you imagine our society must adapt as our environment becomes more uncertain? How should uncertainty in climate forecasts inform policy and personal decisions?
In short, what are your concerns and what are your reasons for optimism for living in this Uncertain World?
We have invited some of our academic colleagues, including the Cabot Director Rich Pancost and recently appointed lecturer in environmental ethics Megan Blomfield to speak briefly about climate uncertainty and how it impacts issues of equality. We also hope to have contributions from various Bristol leaders including some of your Councillors . However, the goal of the day is for us to listen to you.
And even if you cannot attend, visit our website and leave your reflections on our Graffiti Wall.
Registration
This event is free to attend and open to all but you must book your place via Eventbrite.
Please note that the event will run from 2 pm - 5 pm.
Please contact cabot-enquiries@bristol.ac.uk if you have any accessibility requirements.
Organisation

This is event in being organised by the Cabot Institute as part of the Bristol 2015 European Green Capital Summits Programme.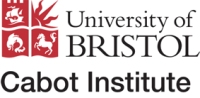 ‌
Contact information
cabot-enquiries@bristol.ac.uk