Visions of just, green urban futures: Equality, democracy and the environment
24 June 2015, 5.00 PM - 24 June 2015, 6.30 PM
Dr Ryan Holifield
Graduate School of Education, 35 Berkeley Square, Bristol BS8 1JA. Room 4.10 (wheelchair accessible)
Dr Holifield is a leading US scholar, based at the University of Wisconsin. Drawing on a specific US historical context, in this lecture he analyses the trajectories of conflict and controversy over the direction of urban environmental change and reflects on what we can learn from this to apply to the contemporary situation.
Author of numerous publications including Spaces of Environmental Justice (2010), Dr Holifield's work addresses the human dimensions of environmental change, with a focus on issues of democracy, governance, policy, and social and environmental justice. His theoretical interests include urban political ecology, actor-network theory, democratic theory, critical approaches to environmental governance, and critical geographic theory more generally.
Registration
Open to university students, staff and members of the public. The event is free and will be followed by a drinks reception. Please book via Eventbrite.
This event is supported by the Cabot Institute, University of Bristol, in association with Green Capital.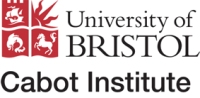 ‌
‌‌